The Denali Highway is a scenic, 135 mile/217 km route from Paxson to Cantwell. It begins at the Richardson Highway and ends at the Parks Highway, 27 miles south of Denali National Park  entrance. Paxson Junction is at mile 177 of the Richardson Highway. Cantwell Junction, is at mile 210 of the Parks Highway. The Denali Highway is closed from October to mid-May.
With the exception of the first 21 miles/34 km from Paxson and the first 2.6 miles/4 km from Cantwell, this highway is gravel and can be rough. It is not recommended for large RVs, however smaller RVs, campers, vans and other vehicles should be fine if driven carefully.
Most rental agencies do not allow their vehicles to be driven on the Denali Highway, but there are a few that do. They include GoNorth RV and Alaska 4X4 Rentals.
The Denali Highway was the only road access to Denali National Park from 1957 to 1972, when the Parks Highway was completed. Visitors to Alaska who are in search of a vast untouched landscape will love the Denali Highway and its incredible wilderness scenery.
The conditions of the road will vary from well maintained to rough and bumpy. It may depend on when the last time the maintenance vehicles visited. However, slow, careful driving will allow most people to travel the highway without much difficulty. With such amazing views, there really is no need to rush.
Updates on Road Conditions and Construction: http://511.alaska.gov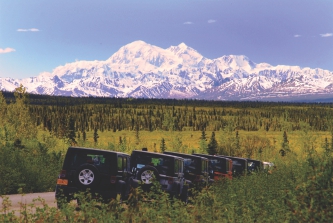 Denali Highway Map
The map below shows the Denali Highway connection between the Richardson Highway and the Parks Highway. The 135 mile Denali Highway can be driven in 1 day but it is recommended to spend at least one night along the highway, camping or staying at one of the lodges along the highway.
Is the Denali Highway in Denali National Park?
No, the Denali Highway connects the Richardson Highway to the Parks Highway. The Denali Highway is 27 miles south of the entrance to Denali National Park (via the Parks Highway).
How long is the Denali Highway?
The Denali Highway is 135 miles from Paxson to Cantwell.
Is the Denali Highway Paved?
The Denali Highway is mostly gravel, except for a 21 mile paved section starting at Paxson and a 2.6 mile section from Cantwell. 
How rough is the Denali Highway?
The conditions will vary, but you should expect it to be bumpy and slow going. It is common for the road have washboard sections and be dusty. The recommended speed is between 30 mph and 50 mph.
Denali Highway Road Log
0
Paxson (Junction of Richardson and Denali Highways).
6.5
Parking with view. Picnic area and toilets.
8.1
Parking with view.
10
Short hike to Ten Mile Lake. Fishing for burbot in Ten Mile Lake.
10.5
Parking.
13
Parking with view of the Wrangell Mountains including Mt. Drum, Mt. Sanford and Mt. Wrangell.
17
2-mile trail to Little Swede Lake, and 3-mile trail to Swede Lake.
18
Parking on both sides of highway.
19
Parking.
20
Tangle River Inn, visitor facilities.
21
Pavement ends/begins.
21.3
Tangle Lakes Campground. BLM-maintained. North side of the Denali Highway and has 45 camp sites, wells with hand pumps are located at the Tangle Lakes Campground and the Delta wayside. toilets on Tangle Lake (one of seven large, connecting lakes with grayling, trout). Delta Wild and Scenic River Wayside are located on the south side of the road, both have a boat launch and picnic area. This is a day use area only. The wayside boat launch is the put-in for the Upper Tangle Lakes. system. Moose, caribou are plentiful and is heavily used during fall hunting season.
22
Tangle Lakes Inn, visitor facilities.
24.7
Rock Creek, one lane bridge.
25
3-mile trail to Landmark Gap Lake.
30.7
2-mile trail to Glacier Lake.
31.7
Parking.
37
MacLaren Summit. 4,086 ft/1245m This is the second highest highway pass on the Alaska road system. (The Atigan Pass on the Dalton Highway is the highest).
42
MacLaren River Bridge.
43.3
MacLaren River Road and MacLaren River trailhead.
48.6
Parking by lake.
49.7
Parking by lake, Interpretive sign.
55.6
Clearwater Creek, one-lane bridge. Rest area.
68
Hatchet Lake Road. 4-wheel drive only.
77
Private Airstrip.
79
Valdez Creek Road leads to abandoned mining camp of Denali, which flourished in the early 1900's. The area was mined again from 1990 to 1995.
79.5
Susitna River, one lane bridge.
81
2-mile trail to Snodgrass Lake.
82
Visitor facilities. The Alaska Range is visible north of the highway between mile 87 and mile 104. Good views of Mt. Hayes, Hess, and Deborah.
85
The abandoned Valdez Creek Mine can be seen across the Susitna River.
90.5
Waters to the east of this point drain to the Susitna River system which flows to the Cook Inlet in the south. West of here the Nenana flows to the Yukon River which empties into the Bering Sea.
95
Short side road leads to parking area. Interpretive sign. Canyon Creek, parking.
104.5
Brushkana Creek Campground. BLM-maintained. 22 camp sites, tables, toilets and firepits. Grayling fishing.
107
Canyon Creek, fishing for grayling and lake trout.
111
Seattle Creek, one-lane bridge, parking. Dolly Varden and grayling.
115
Scenic view of Nenana River Valley, large parking area.
117
Nenana River can be seen to the north of the highway.
124
Good views of Mt. McKinley.
127.5
Fish Creek, good grayling fishing early in the year. Large parking area at east end of bridge.
128
Good view of Mt. McKinley.
130.3
Good photo opportunity of Denali (Mount McKinley) when weather allows.
132
Good grayling fishing in stream south of highway. Paved road begins/ends.
134.5
Cantwell Junction. Junction of The Parks Highway and Denali Highway. Turn right on the Parks Highway for 27 miles to reach the entrance of Denali National Park.