If you've decided to cruise to Alaska, you may be wondering which Alaska cruise itinerary is best? And that's a great question, but it's not easy to answer.
The good news is that if you decide to book a cruise to Alaska you will definitely have plenty of opportunities to see magnificent glaciers, spot incredible wildlife, and experience some amazing outdoor adventure no matter what itinerary you choose.
Every Alaska cruise will include stops in vibrant towns and cities with rich histories from their indigenous cultures and their gold rush past, there's no way you can leave your cruise to Alaska unsatisfied.
What makes the best itinerary for an Alaska Cruise?
Here are some important things to keep in mind when choosing the best Alaska cruise itinerary.
The best itinerary for an Alaska cruise allows plenty of time to explore Alaska.
Some cruise itineraries have a very short amount of time on shore in each town. And we think the best itinerary is one that maximizes the amount of time that you actually get to spend in Alaska.
Look for a Cruise that give you plenty of time to explore when you are off the ship. You came to see Alaska, after all.
Cruises that have more time in port are typically a one-way cruise, not a round trip. A one-way Alaska cruise itinerary may stop at more ports of call, and have fewer days of cruising. Which will give you more time to explore Alaska.
A one-way cruise will also allow you to add on a land tour before or after your cruise. Once again, this gives you more time to actually explore Alaska.
You can book a "cruise tour" operated by one of the big cruise companies like Princess or Holland America, to places like Talkeetna, Denali National Park and Dawson City. You can also book the land portion of your trip independently with a self-drive tour before or after your cruise.
What Alaska Cruise has the best Glaciers & Wildlife?
Alaska's glaciers and Wildlife is what most visitors to Alaska want to see. The good news is that almost every Alaska cruise itinerary will include glaciers and wildlife.
Marine wildlife such as whales, harbor seals and sea lions may be seen from your cruise ship. You will likely have to take a shore excursion to encounter bears or moose on your cruise.
Almost every cruise in Alaska will visit one, if not all three, of these amazing glaciers; Glacier Bay, Hubbard Glacier and Dawes Glacier in Endicott Arm.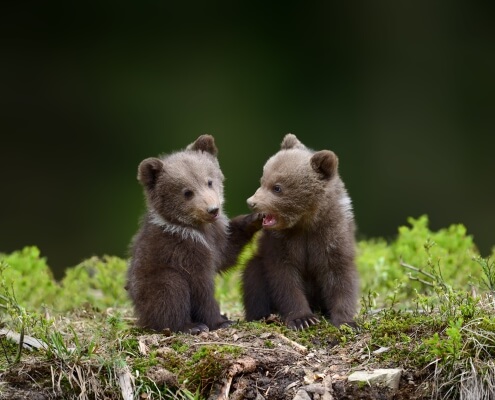 Hubbard Glacier vs Glacier Bay vs Dawes Glacier – Which one is best?
Hubbard Glacier is the largest calving glacier in North America, and one of the few tidewater glaciers in the world that is still advancing. It has been advancing for more than 100 years.
Hubbard Glacier is in Disenchantment Bay, a narrow bay at the end of Yakutat bay. Hubbard Glacier is 75 miles long (125 Km) and 7 miles wide (11 Km). It is so large it stretches from Wrangell St-Elias National Park in Alaska to Kluane National Park in Canada.
Glacier Bay has a number of large tidewater glaciers including Margerie Glacier and Johns Hopkins Glacier. Margerie glacier is 21 miles (34 km) long and 1 mile wide. Glacier Bay was completely full of ice in the 1700s making one giant glacier. But the last several centuries have seen the ice retreat leaving a 65 mile fjord, with many smaller glaciers.
Dawes Glacier is south of Juneau and is part of the Tracy Arm-Fords Terror Wilderness Area. Dawes Glacier is at the end of Endicott Arm and is a very actively calving glacier. If your cruise ship doesn't cruise by Dawes Glacier, it's possible to take a day tour in Juneau that visits the Tracy Arm-Ford Terror Wilderness Area.
Discover an Amazing Alaska Itinerary
From 4 nights to 14 nights you'll find an Incredible Alaska Itinerary!
The Two Best Alaska Cruise Itineraries
Gulf of Alaska Itinerary
The Gulf of Alaska Itinerary typically starts or ends in Seward or Whittier (Anchorage). If you see Anchorage on the Itinerary, the port of call is actually Whittier. A small town on Prince William Sound an hour drive south of Anchorage (or a 2.5 hour train ride on the Alaska Railroad). Whittier is unique because it is reached via a 2.5 mile tunnel that alternates between cars and train traffic.
Seward is 127 miles south of Anchorage in the Kenai Peninsula, but can also be reached with the Alaska Railroad from Anchorage.
A Gulf of Alaska Itinerary will also include a trip through Alaska's Inside Passage, however, it may have fewer ports of call at Inside Passage towns unless you book a cruise itinerary of longer than 7 days.
The Gulf of Alaska itinerary is ideal for those looking to explore Alaska before or after their cruise. It's very easy to add 4 days, 7 days or even 10 days of exploring mainland Alaska either with a cruise tour that is part of your cruise itinerary or independently. 
6 Day Pre Alaska Cruise From Fairbanks to Anchorage
6 Day Post Alaska Cruise From Anchorage to Fairbanks
8 Amazing One Week Alaska Itineraries
So which Glacier is best to visit on An Alaska Cruise?
The honest answer is that all of them are incredible. But they also all have their unique features. So it's up to you to decide what is most interesting to you?
Hubbard is the largest Glacier you can see from a cruise ship, and that in itself is impressive. It's also rapidly advancing, so that means there is plenty of calving activity, which is a major attraction for many visitors. Seeing a massive, multi storey, chunk of ice break-off and come careening down into the ocean is definitely something you'll remember from your Alaska vacation.
Hubbard Glacier has another impressive feature…It's backdrop of the Wrangell St-Elias National Park & Kluane National Park in Canada. From the water you can see 5 of the 10 highest peaks in North America, including Mt. Logan (Canada's Highest Mountain, and second only to Denali in North America).
Glacier Bay's main advantage is that visitors will not just see one amazing glacier, but many. There are 8 major glaciers in Glacier Bay that still reach the water but over 1000 total glaciers in the National Park. Many of these glaciers have receded into the mountains (known as hanging glaciers) so there is less chance of seeing glacier calving activity, but it's certainly still possible. Glacier Bay is also a great place to see marine wildlife and pass by floating icebergs.
Dawes Glacier is at the end Endicott Arm and is everything you think of when picturing a massive Alaskan glacier. Dawes Glacier is also famous for it's very active calving, making it a very exciting glacier to visit.
What makes the visit to Dawes Glacier unique is the journey down the 30 mile Endicott Arm, which is has both beautiful natural scenery and a great chance to see wildlife both in the water and along the shores. Endicott Arm is a breeding site for harbor seals, making it very likely you will encounter them on your cruise. There are also steep granite walls and beautiful cascading waterfalls.
What Alaska Cruise Itinerary Would I Choose?
Look, I don't think you can make a wrong decision in coming to Alaska by cruise or by road. It's such an incredible state, that the only wrong choice is to not come at all.
But if forced to choose an Alaska Cruise Itinerary, here is what I would choose…
Vancouver to Seward with stops in Ketchikan, Juneau, Skagway and Icy Strait Point.
There I said it. Now is this the most original itinerary ever? No. But it's absolutely going to give most visitors to Alaska a wonderful taste of this great state. It also allows for adding a weeklong land tour before or after your cruise. And I would certainly do that.
If I only had a week and was OK with a shorter cruise, I would consider our Inside Passage and Dawson City combo. This cruisetour meets my requirements for plenty of time off the ship and seeing the sights. And few places in the north have as much history to share as Dawson City.
Northbound Inside Passage Cruise with Dawson City
Dawson City with Southbound Inside Passage Cruise (includes Glacier Bay)
If I had to pick the three best Alaska cruise ports, it would be Skagway, Ketchikan and Juneau. Yes, they are the most popular, but there is a reason for that. They all offer a different atmosphere and unique list of things to do. Each town also has an incredible history to share.
For raw beauty, Juneau is hard to beat. With its scenic waterways, lush rain forests, its high mountain lakes and the 1,500 square-mile Juneau ice fields.
Juneau isn't just for sightseers alone, there is a vast array of things to do here. Including; excellent gift shops, theatres, restaurants and bars, including the famous Red Dog Saloon.
Juneau is also famous for Mendenhall Glacier, an easy to access glacier that sprawls between mountains for before showing its ice face across Mendenhall Lake. There is also the Goldbelt Tram, an aerial tramway that takes visitors to the 1800 ft level of Mount Roberts. There is a restaurant, gift shop, theatre and hiking trails at the top. Juneau is also close to many nearby attractions, including Glacier Bay National Park and Preserve.
Skagway is the northernmost point in Alaska's Inside Passage, at the far end of Lynn Canal. It 1898 It was the gateway to the Klondike gold fields. Streets once filled with gold-crazed stampeders are now just as busy with thousands of visitors arriving by cruise ship every day!
Skagway is where you will find one of Alaska's most popular attractions, the White Pass and Yukon Railroad, known as the "Scenic Railway of the World. This is more than a train, it is a ride through history.
Skagway is also the home of the Klondike Gold Rush National Historic Park, which commemorates the gold rush stampeders of the Klondike by preserving the historic buildings and trails of the Gold Rush era. We also include Skagway in our ultimate RV route to Alaska.
Ketchikan is often the first city visited in Alaska by Cruise Ship when heading up the Inside Passage from Vancouver. This small town really comes to life in the summer with the influx of cruise visitors.
Ketchikan is unique in that it's original streets were boardwalks built right over the water. Misty Fjords National Monument to the east of Ketchikan is a beautiful natural landscape with soaring 3000 ft cliffs that can be viewed by boat tour or float plane. Ketchikan is famous for having the world's largest collection of totem poles.
Haines is situated at the upper end of the Inside Passage in North America's longest and deepest fjord. It is only 14 miles south of Skagway, but there is no road between the towns, so ferry's must be used to commute between the two. Haines is in the Chilkat Valley and is home to one of the highest concentrations of Bald Eagles in the world. Tours on the Chilkoot River offer amazing opportunities to view both bears. Including brown and black bears and the elusive spirit bear.
Haines is one of the few Inside Passage towns that is reachable by road. The 159-mile Haines Highway connects to the Alaska Highway 100 miles north of Whitehorse at Haines Junction.
Seward is a charming coastal town in the Kenai Peninsula, 127 miles south of Anchorage. It is one of Alaska's most scenic towns. Seward is the "Gateway to Kenai Fjords National Park", which is typically explored on one of the world-class boat tours that tour the stunning scenery and abundant wildlife of the National Park. As the first or last port of call for many cruise passengers, it's recommended to add a day or two of activities in this beautiful town.
Nearby Exit Glacier is part the only part of the Kenai Fjords National Park that is accessible by road.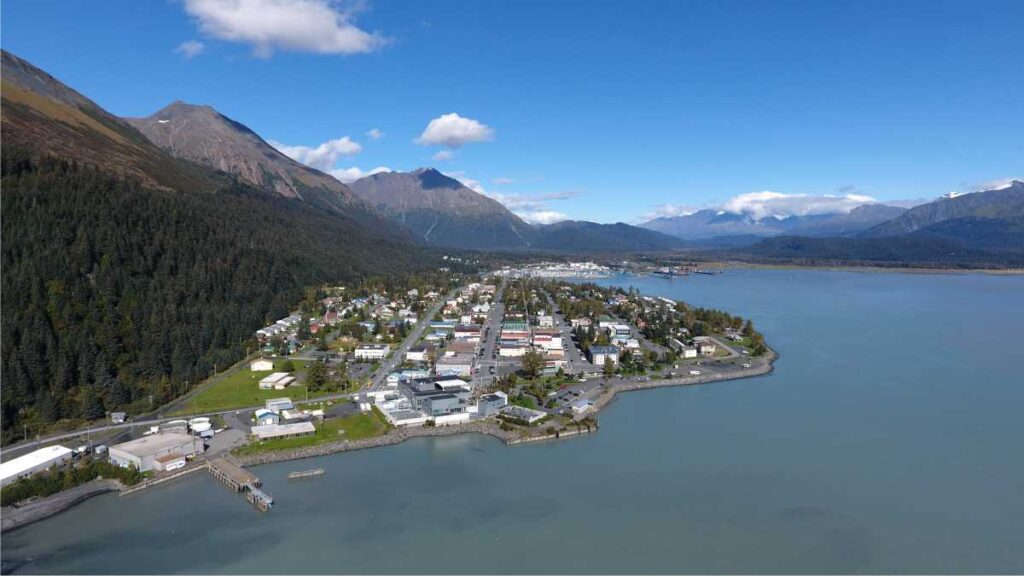 Sitka is one of Alaska's most historic towns. It was the headquarters for the Russian-American Company which colonized and exploited their new found possession of Alaska.
Sitka was then the site of the historic transfer of Alaska from Russia to the United States in 1867. It then became Alaska's first capital and remained so, until 1906 when it was moved to Juneau.
Sitka has a beautiful landscape on the  west side of Baranof Island. Mt. Edgecumbe, a dormant volcano that looks like Japan's Mr. Fujiyama, dominates the horizon.
Icy Strait Point
Icy Strait Point is a unique Alaskan cruise destination. It is on Chichagoff Island, 1 mile from the native village of Hoonah and near Glacier Bay National Park. Icy Strait Point is owned and operated by the Huna Totem Corporation, the only privately owned cruise ship port in Alaska.
Because the area was built solely to cater to cruise passengers, there are a number of activities amazing activities including bear viewing, flightseeing over Glacier Bay National Park, exploring the native village of Hoonah, or riding the incredible Zip Rider, one of the largest zip lines in the world.
Prince Rupert is in British Columbia Canada, but many cruises stop here on the way to Alaska. It is mostly visited by smaller cruise ships, but there is still the occasional large ship (1500+ passengers) that stops at Prince Rupert. It is one of the deepest, natural ice-free harbors in the world.
Prince Rupert has a commercial port that sees as much activity as the Vancouver port. Because it is a Rail terminus, many of the goods that enter Canada from Asia arrive in Prince Rupert.
The indigenous community has flourished in this area for 10,000 years and have a proud and strong history to share with visitors.
What is the best Cruise line to Alaska?
It's probably impossible to say what the best cruise line to Alaska is, as everyone will have a different definition. Some may choose the most luxurious cruise line, while others the most affordable. Many people want to cruise on the giant ships with 3000 passengers because they have the most onboard entertainment, while others search out small intimate ships with less than 500 people that can visit smaller ports.
So there is no definitive answer on what is the "Best Cruise Line to Alaska." But here are a some of the major cruise lines that provide Alaska Itineraries.
Large Cruise Lines to Alaska
Princess Cruises – Princess is one of the oldest cruise lines serving Alaska and not only do they have a full line of cruise itinerary options, they also own five lodges in mainland Alaska. They can provide any type of Alaska cruise or land tour you are looking for.
Holland America – Has been operating in Alaska for decades and brings a level of expertise that is unmatched. They are able to offer seamless Alaska Itineraries from the Inside Passage to Denali National Park.
Royal Caribbean – is the second largest cruise line company in the world (second to Carnival Corporation) and is one of the major players in the Alaska cruise industry. They offer top notch ships for their Alaska Cruises.


Small Cruise Lines to Alaska
UnCruise – For 25 years they have been providing small ship cruises to Alaska for those looking for a different type of adventure.


Seabourn Cruises – Combine small ships and luxury and you have Seabourn Cruises.


Windstar – Some of the most unique small ships that sail anywhere. Windstar Cruises is high-end cruising at it's best.
FAQs – Alaska Cruise Frequently Asked Questions
Can I take a cruise from Anchorage?
No, cruises don't leave from Anchorage. However, many cruise itineraries will list Anchorage as the starting point or ending point. Those cruises will actually use the port of Whittier and then either bus or train passengers to or from Anchorage. Whittier is 1 hour south of Anchorage by road and 2.5 hours by train.
Which Alaska Cruise Itinerary has the best scenery?
The Inside Passage is a stunningly beautiful area to cruise through. The good news is that almost all cruises to or from Alaska will cruises through the Inside Passage at some point. Even cruises that cross the Gulf of Alaska will take the Inside Passage to reach Vancouver, Seattle or San Francisco.
Which Alaska cruise is best to combine with a land tour?
Gulf of Alaska Cruise are better to combine with a land tour of Alaska. This is because these cruises depart/end in Seward or Whittier (Anchorage) and they are closer to Alaska's biggest mainlaind attractions: The Kenai Peninsula and Denali National Park
When is the best time to Cruise to Alaska?
Let's be honest, if you have the opportunity to take a cruise to Alaska, you should. There is a reason it is such a popular cruising destination. However, if you have the luxury of choosing when you can go, I would recommend late May or early June.
The weather in Alaska tends to be better (less rain and more sun) but it's also beautiful because the mountains are still draped in snow, providing a even more spectacular backdrop. The temperatures will probably be lower than in July, but not by a lot. Click here to learn more about the best time to go to Alaska.
It is possible to see the Northern Lights from a cruise in late April or early September. It's not likely, but it is possible. Fall starts early this far north and as the days get shorter, there may be enough darkness to see the dancing aurora borealis. But don't get your heart set on it. If you really want to see the Northern Lights, you should head further north in winter. Find out more about the northern lights here.
Can I see Denali from a cruise?
Yes and No. you won't see Denali from your cruise ship, but you can book a tour with your cruise line that will take you to Denali National Park. Whittier is the closest cruise ship port to Denali National Park, and you can take the Alaska Railroad from Whittier to Denali National Park. It's a long train journey and most train itineraries will have you stop for a night in Talkeetna before continuing on to Denali.
So yes, you can arrange to see Denali from your cruise, but you will need to book a Gulf of Alaska cruise that starts or ends in Whittier or Seward.
To see pre and post cruise tour options visit our Tours Page