Imagine relaxing under the northern lights in a steaming hot tub while your sense of wonder is excited beyond belief. This is luxury… Alaskan style. From resorts to beautiful lodges, and small remote cabins, luxury in Alaska can take come in many different styles.
Alaska hotels, resorts and lodges are as varied as the landscapes of this great state. But whether you're looking for a wildlife viewing adventure, a romantic escape or a luxury wilderness lodge, Alaska can make it happen.
We've put together a list of some of Alaska's best luxury resorts and lodges in each of Alaska's most visited destinations. Many of Alaska's accommodations are only open during the summer months, but there are a number of year-round accommodations. Many of these are further north, in Fairbanks, where norther lights viewing is a popular Alaska bucket list adventure.
Included below  are a list of luxury resorts in Alaska that will make any trip to the Last Frontier a first class experience.
Luxury Resorts near Anchorage Alaska
The Lakefront Anchorage is an urban resort on Lake Spenard. The lake, combined with Lake Hood by canals, is the world's largest, busiest floatplane harbor. So, it is no wonder the resort's theme is centered around floatplanes. This three-star rated resort has a fitness center, three dining options, and large rooms.
Location: Anchorage
Built to resemble the original owner's Swiss heritage, Alyeska Resort is renowned for its skiing and views of the rugged Chugach Mountains. Now it is also a great spot year-round for hiking, sightseeing, and a little self-indulgence. Their Nordic spa, Seven Glaciers restaurant and facilities earn them a four-star rating.
Location: Girdwood, Alaska (38 miles south of Anchorage along the Scenic Seward Highway)
Chickaloon's proximity to the massive Matanuska Glacier makes it a destination worth exploring. So why not explore the glacier from a private, spacious log cabin or suite at Sheep Mountain Lodge? They also have rooms in the lodge, and its historical roots take you back to times when it served trappers and travelers alike. There is an onsite restaurant serving great Alaskan fare, and you can also hike or take a helicopter ride to the glacier from the lodge.
Location: Chickaloon, Alaska (75 miles north of Anchorage along the Glenn Highway)
Set on a ridge above the town of Talkeetna, Talkeetna Alaskan Lodge offers majestic views of Denali and the Alaska Range. Be sure to book a mountainside room to wake up and gaze at Denali. This resort offers a gorgeous lodge with comfortable rooms and is minutes away from the quaint small town of Talkeetna. The lodge offers unique Alaska cuisine at their on-site restaurants, ranging from fine dining to more casual, lighter fare.
Location: Talkeetna (110 miles north of Anchorage on the Parks Highway)
The six-bedroom main lodge was recently remodeled and offered rustic Alaskan architecture with posh amenities. There are two private cabins as well. They offer an exercise room, a hot tub, Wi-Fi, massage services, private baths, a sauna, an Astar Helicopter, use of bikes, kayaks, and more. In addition, there are year-round activities to give you a great Alaskan experience. From Heli-skiing in the winter to Heli-Fishing in the summer, the luxury Alaskan lifestyle awaits at Tordrillo Mountain Lodge.
Location: Remote (40-minute flight from Anchorage)
There are two boutique lodges, Winterlake and Tutka Bay Lodge. The food is so good here that the Dixons published a cookbook with rave reviews from Bon Appetite, James Beard, and others. Winterlake Lodge is on the Iditarod Trail at the entrance to the Alaska Range. Their private helicopter or fixed-wing airplanes will take you on adventures you have only dreamed of going on before. Enjoy the hot tubs and sauna for that extra curative boost.
Location: Skwentna. (198 air miles northwest of Anchorage-access by air)
Discover an Amazing Alaska Itinerary
From 4 nights to 14 nights you'll find an Incredible Alaska Itinerary!
Luxury Resorts in Fairbanks Alaska
The Fairbanks Area, in Interior Alaska is known for its midnight sun in the summer and brilliant northern lights in winter. We've listed 3 lodges in Fairbanks and two out of town that are North Lights views hotspots.
Located on the banks of the Chena River, Fairbanks Princess Lodge is the choice of experienced travelers. The Edgewater Dining Room and Trackers Bar & Grill have great food plus a large outdoor deck extending to the edge of the Chena River.
This resort in Fairbanks offers condo-style 1, 2 & 3 bedroom suites, perfect for both nightly visits and extended stays. Located only minutes from downtown Fairbanks and the University of Alaska. There is also a second Summer only resort at Wedgewood called Bear Lodge. It offers large guest rooms in quiet surroundings.
On the premises of the Wedgewood Resort is the world-class Fountainhead Antique Auto Museum.
Pikes Waterfront Lodge
offers 180 rooms and 28 cabins. Amenities include riverside decks, an award winning restaurant and a comfortable lounge.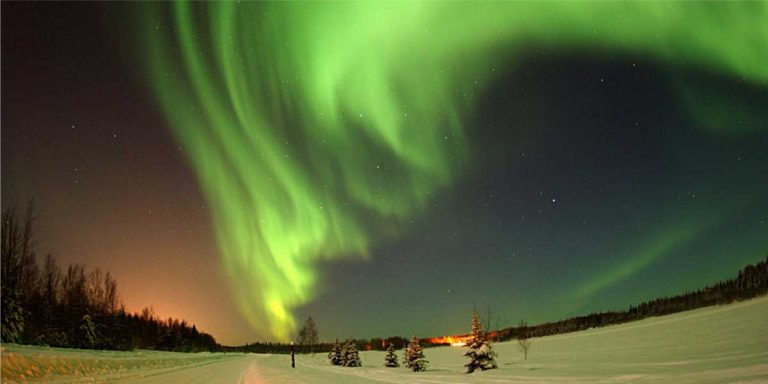 Fairbanks Northern Lights Hotels
The Borealis Basecamp and Chena Hotsprings Resort are two of the most well known Aurora viewing hotels. Chena Hotsprings is open year round but has built its reputation as a Northern Lights Hotel.
The geodesic domes that make up the basecamp have been uniquely designed with clear roofs, giving you a chance to see the aurora from the warmth of your room in the wintertime. Summertime experiences include acres of uninhabited land (except by the woodland creatures). Hike, berry pick, or rejuvenate in their sauna. Enjoy your own igloo and first-class hospitality.
Location: Fairbanks, Alaska (25 miles north-Shuttles available from Fairbanks hotels or airport)
Alaskans and visitors enjoy Chena Hot Springs year-round. Best known for its northern lights viewing in the wintertime, far away from the light pollution of the cities, Chena Hot Springs will also provide a northern lights wake-up call, just in case the aurora is out dancing in the sky and you've fallen asleep. While the natural hot springs are the dependable main attraction, several other activities are available depending on the season. Combine a good soak with a massage and fine dining to complete your renewal. Cabins and rooms are available in a variety of price ranges.
Location: 60 miles east of Fairbanks on Chena Hot Springs Road.
Luxury Lodging near Denali National Park
Denali Princess Wilderness Lodge is your starting point for your complete Denali National Park memory. The park is six-million acres, full of wildlife and, of course, North America's highest peak. The lodge boasts over 600 rooms, six restaurants, Wi-Fi, guest laundry, and all the amenities you would expect in a fine hotel. In addition, their tour desk can help arrange a plethora of summer activities, from dog mushing to white water rafting or flightseeing.
Location: Denali (mile 238.5 Parks Highway)
This Westmark Hotel is in the heart of the Nenana River Canyon, just two miles from the entrance to Denali National Park. Each room has a balcony and an Alaskan-inspired ambiance. Two full-service restaurants are also on the property. They also offer free shuttles to the Park and a selection of tours to explore Denali.
Location: Denali (mile 238.9 Parks Highway)
Camp Denali is inside the Denali National Park, all the way at the end of the road (92 miles) by the pristine Wonder Lake. Currently it is only accessible by air as the Denali Park Road is closed at mile 43. Formerly a homestead, the lodge and all nineteen hand-crafted private cabins have a direct view of Denali. Camp Denali was providing eco-tourism before it was a term. Truly a wilderness adventure with more rustic cabins with wood stoves and clean outhouses. This is the epitome of an Alaskan wilderness adventure.
Location: Kantishna, Denali National Park (Mile 92 of the Denali Park Road)
Denali Backcountry Lodge offers upscale remote lodging in one of America's most popular national parks. This all-inclusive seasonal lodge offers free Wi-Fi in the main building, a bar, and a complimentary shuttle to Wonder Lake. All cabins have private bathrooms, electricity, and heat. Denali Backcountry Lodge includes an exclusive heli-seeing roundtrip transfer from Denali Cabins at McKinley Park, Alaska as there the Denali Park Road is closed at mile 43.
Location: Kantishna, Denali National Park (Mile 92 of the Denali Park Road)
Seeing this hotel perched on the cliff along the highway lets you know that many rooms have a breathtaking view of the Alaska range. Rooms include telephones, refrigerators, coffee pots, Wi-Fi, and cable television.
Location: Denali (mile 238 Parks Highway)
A sister property of Denali Bluffs, this spectacular lodge offers unparalleled views of the Nenana River canyon and the mountains. Take a spacious room in the lodge or stay in one of the cabins. Their Alpenglow Restaurant and lounge provide great Alaskan fare and easy access to activities, including golf under the midnight sun.
Location: Denali (mile 238 Parks Highway)
The seasonal Mt. McKinley Princess Wilderness Lodge is in a stunning setting and prides itself on terrific views from its massive windows of North America's tallest mountain – Denali. There is also a hot tub, walking trails, and access to whitewater rafting. The lodge has three dining options appealing to a wide variety of palates.
Location: Trapper Creek, mile 133 Parks Highway in Denali State Park)
Luxury Lodges in The Kenai Peninsula
Overlooking the picturesque Kenai River, each bungalow-styled room has its wood-burning stove, phones, cable TV, and private deck. Lodge amenities include a restaurant, lounge, espresso bar, and outdoor deck This lodge attracts avid anglers anxious to catch that big salmon.
Location: Cooper Landing (100 miles south of Anchorage on the Sterling Highway)
Seward Windsong Lodge, located just outside the city of Seward on Exit Glacier Rd offers 216 beautiful rooms and 18 cabins, each nestled throughout the property. End your day at Resurrection Roadhouse Restaurant, for an amazing dining experience.
Location: Seward, Alaska
Mix rustic beauty, the activities of Kachemak Bay, and a sweeping outdoor deck, and you have a recipe for a memorable Alaskan vacation. Then, throw in some pampering in the sauna and plunge pool or hot tub to make you feel like you have left the stress of the world behind you. Homer Inn & Spa is a series of townhouses, each with its own private patio or balcony overlooking Kachemak bay.
Location: Homer, Alaska
Seascape Lodge is one of the few all-inclusive fishing lodges on the Bluff of Cook Inlet in the Kenai. The eight-room lodge offers three suites, all meals, including appetizers and complimentary drinks with dinner.
Location: Kalifornsky, Alaska, on the Kenai Peninsula (150 miles south from Anchorage on the Sterling Highway)
To access this remote wilderness lodge, you will take a 12-mile cruise from Seward to Halibut Cove, a small Kenai peninsula town. The Kenai Fjords Wilderness Lodge provides remote wilderness on secluded Fox Island. They want to ensure you get away from it all, unplug and unwind so that you won't find any electrical outlets in the cabins, but you will find gourmet meals and smooth pebble beaches.
Location: Halibut Cove, Alaska (12-mile cruise from Seward)
The Kenai Riverside Lodge is an all-inclusive resort with standard rooms in the log lodge or private riverside cabins. Enjoy a wood-fired sauna or sit around the fire pit at night. This refuge is an angler's paradise.
Location: Cooper Landing, Alaska (100 miles south of Anchorage along the Sterling Highway)
This seasonal, all-inclusive resort lodge features log cabins with heated bathrooms and comfy robes. The Lodge focuses on health and wellness, providing each guest one wellness session. You will feel renewed after experiencing the amenities of Stillpoint Lodge with a front-row seat to some of nature's best. 
Location: Halibut Cove, Alaska (accessed by a 20-minute boat ride from Homer)
Tutka Bay Lodge sits in a private Kenai Peninsula cove on the edge of Kachemak Bay State Park. The main lodge is where visitors gather for meals, cooking classes, or complimentary massage and yoga classes. In addition, they offer daily wine and beer tastings featuring Alaska micro-brewed beers. There are six cabins and a few rooms inside the lodge. All provide tranquility.
Location: Homer (short boat ride from the Homer Boat Harbor to the resort or float plane)
The lodge is on the shores of China Poot Bay, about ½ hour's boat ride across Kachemak Bay from the quaint town of Homer. Private cabins await you, and each cabin has a slightly different motif. All have electricity, luxurious bedding, and bathrooms. You'll get fresh flowers, chocolate, and a fruit basket at this all-inclusive resort. You'll be treated to gourmet cuisine and attentive staff as they work to make sure you access your Alaskan adventure.
Location: Homer (Includes transportation from the Homer Boat Harbor to the resort)
Luxury Wilderness Lodges in Wrangell St-Elias National Park
Wrangell St-Elias National Park is the largest national park in the United States and part of the largest UNESCO World Heritage site in the world, which includes Kluane National Park and the Tatshenshini-Alsek Provincial Park in Canada.
There are not a lot of lodging options in the Wrangell St-Elias National Park, but there are some high-end lodges that definitely meet the Alaska definition of Luxury.
In the historic Kennicott Glacier area, you'll find this family-owned hotel mimicking the original Kennecott Mine building style. There are smaller rooms with shared bathrooms or stay in the South Wing, which has larger rooms with private bathrooms.
Peruse the old photos of when Kennicott was a working copper mine. Then, hike on Root Glacier and tour the historic town of Kennecott. Many buildings have recently been restored, and the National Park Service rangers will happily explain the fascinating history of the mine. To reach the Kennicott Glacier Lodge, you can drive from the Richardson Highway to Chitna and then McCarthy. Or you can fly with Wrangell Mountain Air from Chitna or Glennallen.
Location: Kennecott (accessible by road or air)
The Copper River Princess Wilderness Lodge is on 200 acres at the entrance of the Wrangell-St. Elias National Park. The 85-room lodge has majestic views of the Wrangell-St. Elias mountains and the Copper and Klutina rivers. River rafting, hiking, fishing and excursions into the historic Kennecott mining district are easily accessible for guests. 
Location: Copper Center (200 miles northeast of Anchorage on the Richardson Highway)
Nestled in the largest protected land mass on earth, you experience nature as it exists, without human interference. The lodge is built from local trees, the cozy cabins, the wood-fired sauna, and the carefully curated dishes made from fresh Alaskan ingredients, including many vegetables from the organic gardens. This is where to go if you want true wilderness, as you've only read about before.
Location: Wrangell-St. Elias National Park (access by small plane)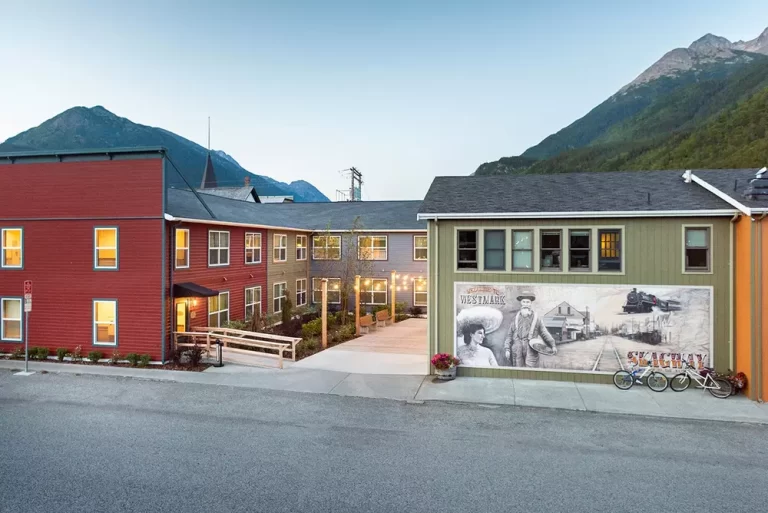 Luxury Lodges in Southeast Alaska
The Glacier Bay Lodge offers the only accommodations in Glacier Bay National Park and Preserve. This lodge provides stunning views of the Fairweather Mountain range and Glacier Bay. Dine on fresh Alaskan seafood, watch the glaciers calve, learn something new from the National Park Rangers, or take a hike in the temperate rainforest. Glacier Bay Lodge is a longtime favorite of Alaskans and visitors alike.
Location: Glacier Bay, Alaska (Fly to Gustavus from Juneau)
This 94-bed seasonal hotel is just a few steps away from the Gold Rush National Historical Park in Skagway's famous gold rush town, giving you plenty of time to explore the shops and history. Skagway is a small walkable town at the northern tip of Alaska's panhandle. The bustle from the cruise ship traffic brings this town to life every summer.
Location: Skagway
Ketchikan's only five-star reviewed waterfront inn provides a variety of accommodations from three bed and breakfast suites to two well-furnished vacation rental homes. You can also book the entire Inn as one large vacation rental with sufficient notice. It is located on the charming Ketchikan waterfront just four miles north of downtown. Each suite is appointed as you expect from a fine first-class hotel or private villa. There is also a 10-person spa available for your relaxation. If you are lucky, you may be able to spot whales swimming by from your window.
Location: Ketchikan
Pybus Point Lodge is an all-inclusive lodge offering rooms or cabins in remote and scenic southeast Alaska. They feature private bathrooms, fireplaces, and hot tubs. So, whether you are seeking fishing, wildlife viewing, or just relaxing, Pybus Point offers luxury Alaska-style.
Location: The south end of Admiralty Island (float plane trip from Juneau)
Talon Lodge & Spa is an exclusive all-inclusive resort on Apple Island in southeast Alaska. The main lodge comprises individual cabins that sleep from four to six guests. Known for its fishing, it is also a great place to unwind, utilizing the onsite spa or grabbing a beverage from the Beach Bar.
Location: Near Sitka (stays include a flight from Sitka Airport)
The Waterfall Resort is an incredible sportfishing lodge on Prince of Wales Island. This 52-acre property is renowned for its salmon, halibut, and lingcod fishing. Accommodations range from their historic lodge rooms and cabins to family-sized townhouses. Prince of Wales Island is in part of the Inside Passage and can be reached by float plane or boat from Ketchikan in Southeast Alaska.
Location: Prince of Wales Island
Amazing Summer Activities in Alaska