Locations in Southeast (Inside Passge)
Skagway

| Southeast (Inside Passge)
Skagway, Alaska is the northernmost point in Alaska's Inside Passage, at the far end of Lynn Canal. In its heyday, Skagway was the boomtown gateway to the Trail of '98 and the Klondike gold fields. The population has dwindled from 20,000 feverish gold seekers to about 1000 year-round citizens.
Streets once choked with gold-crazed stampeders clamoring to get to the Klondike and strike it rich, are now just as busy with thousands of visitors that arrive by cruise ship every day! On a busy ship day, Skagway reverberates with many of the same feelings that must have been present during the Gold Rush.
Skagway is home of the White Pass and Yukon Railroad, the "Scenic Railway of the World." It is one of Alaska's most popular visitor attractions and should not be missed. This is more than a train, it is a ride through history. Skagway is also the home of the Klondike Gold Rush National Historic Park, which honors the stampeders of the Klondike by protecting the historic buildings and trails of the Gold Rush era.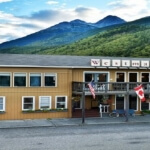 Captures the spirit of the Klondike Trail with its Victorian decor, rustic setting and warm Alaskan hospitality. Open mif-May through mid-September. Third …
Has the amenities of a hotel or a motel, & comfort of a B&B. Centrally located 2 blocks from historic downtown Skagway, …