Locations in Southeast (Inside Passge)
Ketchikan

| Southeast (Inside Passge)
Ketchikan is often the first city visited in Alaska by Cruise Ship. It is a bustling community backed by forested hills and surrounded by a waterway busy with float planes, fishing boats, ferries and cruise ships. The little town of almost 14,000 is built right over the water in many places. Commercial fishing enterprises, growing tourism and the Misty Fjords National Monument to the east make Ketchikan a great place to visit.
Misty Fjords National Monument is a pristine masterpiece featuring some of Alaska's most spectacular scenery. Seventeen thousand years ago the area was covered in ice. Massive glacier action carved out its present landscape of long saltwater fjords and 3,000 foot cliffs.
One of the best ways to explore Ketchikan is on foot. Start at the busy City Dock with a stop at the Visitor Bureau to pick up a Ketchikan Walking Tour Map, so you won't miss anything.
Ketchikan has the distinction of having the world's largest collection of totem poles.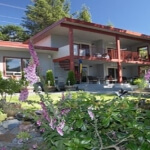 Black Bear Inn Ketchikan's finest waterfront Inn has three 2 room B&B suites with private baths, a beautiful vacation rental apartment, and …
326 Front Street; 907-225-9423 or toll free 1-800-275-9423. Downtown directly across from the cruise ship dock.
2303 5th Ave. 907-225-5461. Clean, comfortable accommodations in a beautiful cedar home with views of the Tongass Narrows. Located one-half mile from …