One of the most common questions first time visitors to Alaska want to know is when is the best time to visit the state. The simple answer is to visit Alaska between May and September and you will get the best weather. Peak travel time is between mid-June and mid-August. But the best time to visit Alaska depends on what you plan to do? Most of Alaska's visitors travel by cruise, or drive, making the warmer summer months ideal. However, if you're looking for winter activities or Northern Lights viewing, winter is the best time for your visit to Alaska.
Is the Summer the best time to visit Alaska?
Alaska's Summer weather is…variable. However, it's often much warmer than visitors are expecting. This may be the land of the arctic, but summer temps tend to be between 50 – 80 degrees Fahrenheit (10 -25 degrees Celsius), and it's not unheard of for the Fairbanks area to break into the 90's. The weather also tends to vary depending on your location. Coastal regions and the Inside Passage in Southeast Alaska get a lot more precipitation than Denali National Park and Fairbanks in the Interior of the state.
However, just because you're likely to get the best weather during the summer, doesn't mean it's the only time to visit this great state. Visiting in April or September will see cooler temps but less crowds. Fall also has the benefit of having fewer mosquitoes in Alaska, but that's not as big a problem as some people will have you believe. Most tourist related businesses don't open until early to mid-May so you may find April is too early if you want to see and do a lot of activities. There also tends to still be snow on the ground and in the mountains in April. However, I find this early time of year to be one of the most beautiful times to visit Alaska. The snow-capped mountains and the sunny spring days make for some spectacular scenery.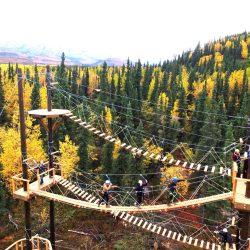 Daylight in Alaska – How long does the sun stay up?
Alaska is the northernmost state and therefore, has very long days during the summer. Above the Arctic circle (which is 190 miles north of Fairbanks), the sun doesn't set during the summer, so you will have 24 hours of daylight to explore. Fairbanks, at the Summer Solstice (June 21) will get approximately 22 hours of daylight, while Anchorage will "only" get around 19 hours. all this daylight during the summer, makes up for the long dark winters where 4 hours of daylight is the norm through much of December and January.
Is Winter the best time to visit Alaska?
If you like winter sports such as skiing or snowmobiling, visiting Alaska in the winter is the way to go. Alaska is renowned for having some of the best Heli-Skiing in the world near Valdez and Haines. But Alyeska Resort in Girdwood (40 minutes south of Anchorage) has excellent skiing with a Tram, 6 lifts, 73 runs and hundreds of inches of annual snowfall. Many areas of Alaska use a snowmobile as a primary mode of transport in the winter. With so many trails and terrain, snowmobiling is a major winter pastime for many Alaskans.
Another big draw for Alaska Visitors is to see the Northern Lights. Because there is daylight for up to 22 hours during the summer, this is not the ideal time to see the Northern Lights. From September to April, it is possible to catch glimpses of the Aurora Borealis, but you will want to be as far north as possible (Fairbanks or further north to the Arctic Circle), and hope for a clear night. Ideal viewing months are December to March, but as with all things relying on Mother Nature, it's never a given. Northern Alaska Tour Company specializes in trips to the Arctic and Northern Lights Viewing.
As a very biased lover of Alaska, I recommend going to Alaska when you can make it happen. There is no bad time to visit this amazing state. However, it's clear that the warmer temperatures and long days make summer the best time to visit Alaska for most people.
Sign up for our 4-part email series to discover critical information for planning your ultimate Alaska vacation!
Amazing Summer Activities in Alaska