Not sure where to start with planning a vacation to Alaska? Bell's Travel Guides is here to help! Whether you're planning a vacation to Anchorage, Fairbanks, Denali National Park or anywhere else around the great sate of Alaska! Our trip planning page will answer some of your most pressing questions, such as;
When to travel to Alaska?
How far is it?
What's the best way to get there?
What's the weather going to be like?
Below are answers to these trip planning questions and a selection of transportation options to help you come up with some Alaska vacation ideas. Browse through our information and links to cruise lines and ferry companies, tour providers, car and RV rental agencies and get started planning your vacation in Alaska!

This will give you some idea:
It is 2,077 miles from Vancouver, BC to Fairbanks, Alaska. That is only 700 miles less than driving from Los Angeles to New York, but it will take just as long heading north because you won't be on any major interstate highways.
"Wow!" Is the usual response. "That's a long way!" The point is this: It's extremely important to plan your Alaska Vacation that's not only within your budget, but within your time limitations.
Now, with some idea of the driving time needed to get there, You may be ready to consider some of the many options you have, including driving:
When packing for your trip to Alaska, think "Layers." No matter when you travel to Alaska, the weather can change quickly so you want to be prepared. The jacket you bring should be waterproof and warm. Many of Alaska's visitors explore the coastline via cruise ships and ferries and coastal Alaska is known to be wet!
Good shoes are also a must, as you almost always end up walking a lot when you're visiting Alaska. However, most visitors won't need big heavy hiking boots for anything but the most strenuous hikes. Lightweight walking shoes will meet most of your daily needs.
Alaska is a very casual place, and unless you're planning fancy evenings out in Anchorage, your regular comfortable clothes will take you from daily tours to dinner out.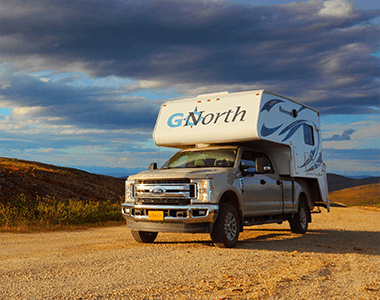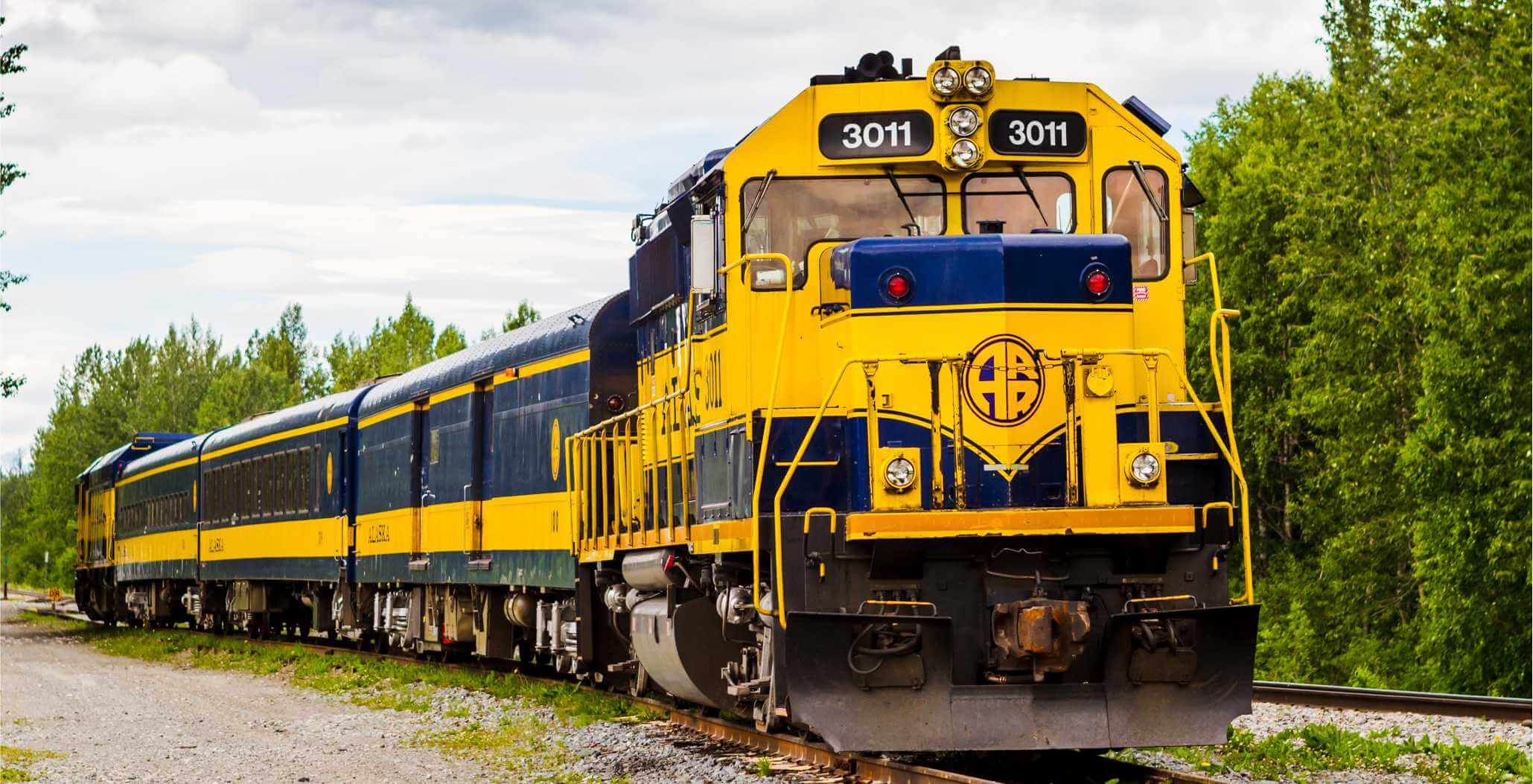 When is the best time to travel to Alaska?
When should I make my trip? Early May to late September is the best time for a pleasure trip. At other times, extreme winter cold or spring thaws can make traveling difficult. Even so, once the highway is snow packed and temperatures stay cold, the road surface is like pavement. As a result, many veteran Alaska Highway travelers prefer travel during the coldest months. For a more in-depth look at when the best time to travel to Alaska, click here.
What's the weather like in Alaska?
The weather in Alaska can be be pretty extreme. Winter temperatures can drop as low as -60 degrees Fahrenheit, while summer temperatures occasionally rise to 95 degrees. However, summer temperatures are usually around 65-75 degrees while winter temperatures average from -5 to -10 degrees Fahrenheit.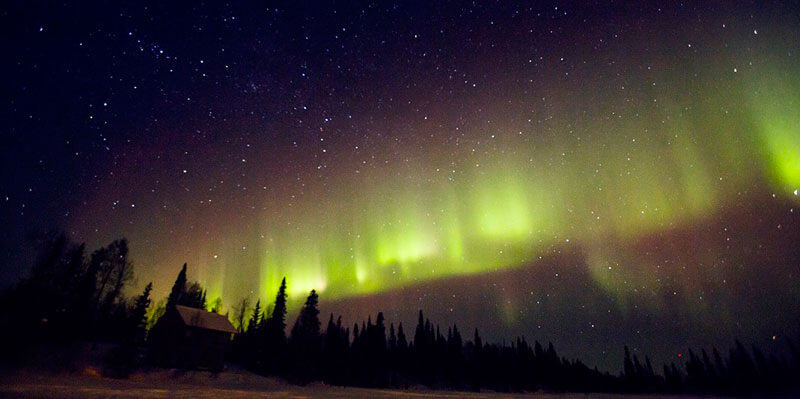 What's the best way to travel to Alaska?
I think the best way to get there depends on how long you have for your trip to Alaska. If you have less than 2 weeks, you should either take a cruise or fly to Alaska and rent a vehicle to travel around the state. If you are planning a longer trip of 3 weeks or more, driving through Canada to Alaska is an absolutely amazing way to really get to see the wild north country. The most popular way to see Alaska is by Cruise ship. You'll see incredible scenery as you travel the Inside Passage and if this is all you see of Alaska, you won't be disappointed.
Below is a list of transportation options you can consider once you determine how long you have for your Alaska vacation.
A passport is required to enter or exit Canada or the U.S.A. For more detailed regulations please visit the Customs Websites for both countries using the links below.
Canada Customs
U.S. Customs
Discover an Amazing Alaska Itinerary
From 4 nights to 14 nights you'll find an Incredible Alaska Itinerary!
The Alaska Highway. This is the "classic" way to travel to Alaska-a 1422 mile motor trek at your own pace through sweeping forests, along fish-laden lakes and rivers, past rustic lodges and wilderness campgrounds that invite you to stop and stay a while. The drive to Alaska is long, but the reward is a "feel" for the North and her people, and a certain oneness with nature. Be sure to note the Cassiar Highway approach to the Alaska Highway when planning your trip to Alaska.
For more details and mile by mile descriptions of every highway to and in Alaska click here.
Cruising to Alaska is the most popular way for most visitors to plan a vacation to Alaska. Major cruise lines and smaller independent cruise companies offer everything from multi-week itineraries to day trips.
When planning your cruise to Alaska you can choose to depart from a number of destinations, including:
Vancouver, BC
Bellingham, Washington
San Francisco, California
Los Angeles, California
Some Alaska Cruises are part of larger package tours, which include various combinations of cruise ship, motorcoach, air and rail travel.
If you're looking for an Alaska vacation that combines the coastal scenery of a cruise with the freedom of your own transportation, consider boarding The Alaska Marine Highway ferry system. You can start your trip to Alaska in Bellingham, Washington or in Prince Rupert BC with the Alaska Marine Highway. You can drive your vehicle aboard, and stop at any of the colorful towns on Alaska's Inside Passage (Ketchikan, Wrangell, Petersburg, Sitka, Juneau, Haines, Skagway). The ferries are fast and efficient, and feature economical meals and stateroom accommodations. It is easy to connect to the world famous Alaska Highway via Haines or Skagway.
You can also use British Columbia Ferries to connect you to the Alaska Marine Highway. Ferries from the northern end of Vancouver Island will take you for a scenic ride through mostly sheltered waters to Prince Rupert, BC, where you can transfer onto the Alaska Marine Highway system or connect to The Yellowhead Highway (Highway 16). This is a good alternative to driving the 946 miles from Vancouver to Prince Rupert.
Traveling in Alaska by rail is a relaxing and fun way to see the the wondrous sights. Just sit back and watch the scenery roll by.
Package tours are a great way to combine cruise and land tours and take away the stress of planning every part of your trip. One stop shopping can make life easy and get you the tour of your dreams.
Flying to Alaska and renting a car is one of the most popular ways visitors experience the state. Almost every major car rental company is represented in Alaska, so you can rent with your preferred company.
If you're looking to travel at your own pace and want the flexibility to camp along the way, an RV Rental may be perfect for you. These companies rent all different size RV's to fit your budget and group size. RV's don't require a special license to drive and are ideal for visitors looking for a little extra adventure.