Are you planning a trip to Alaska in June? If so, it's certainly a good time to come explore the 49th State. June in Alaska has the most hours of daylight and is the best month for those looking to squeeze in as many activities as possible.
No matter when you visit Alaska, this northernmost state offers breathtaking natural beauty and unique cultural experiences that you won't find anywhere else.
In this guide, we'll cover visiting Alaska's three most popular National Parks, if June is a good time to take a cruise to Alaska, and what to expect when it comes to weather and daylight hours.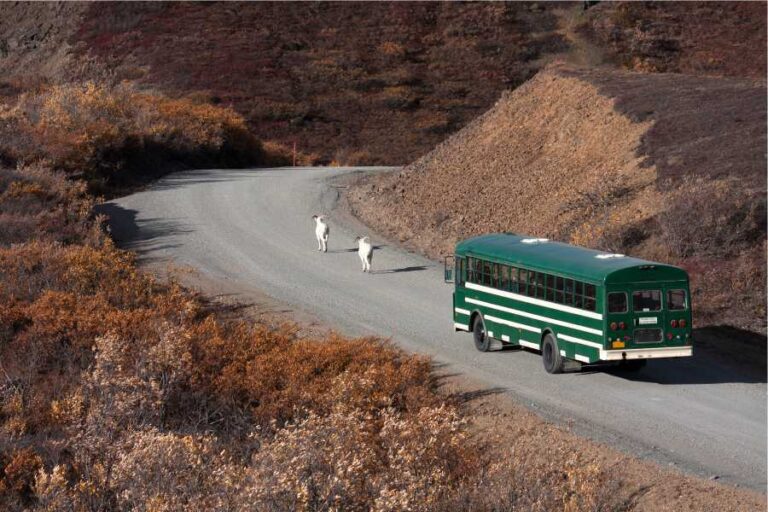 Visiting Denali National Park in June
Denali National Park is the most visited National Park in Alaska. In June, the park comes alive with wildflowers and wildlife, and you'll have an excellent chance of seeing Mt. Denali (formerly known as Mount McKinley), the highest peak in North America. Whether you're interested in hiking, camping, or wildlife watching, June is a great time to visit Denali.
Here are five top activities to enjoy in Denali National Park during the month of June:
Wildlife Viewing:
June is an excellent time to spot a variety of wildlife in Denali National Park. Most visitors to Denali will join a guided tour or take a National Parks Service shuttle bus deep into the park for the best chances of encountering Denali's wildlife. It is common to spot black bear and grizzly bears grazing near the side of the road, or off in the tundra. Other wildlife you may spot in the park include moose, caribou, Dall sheep, and wolves.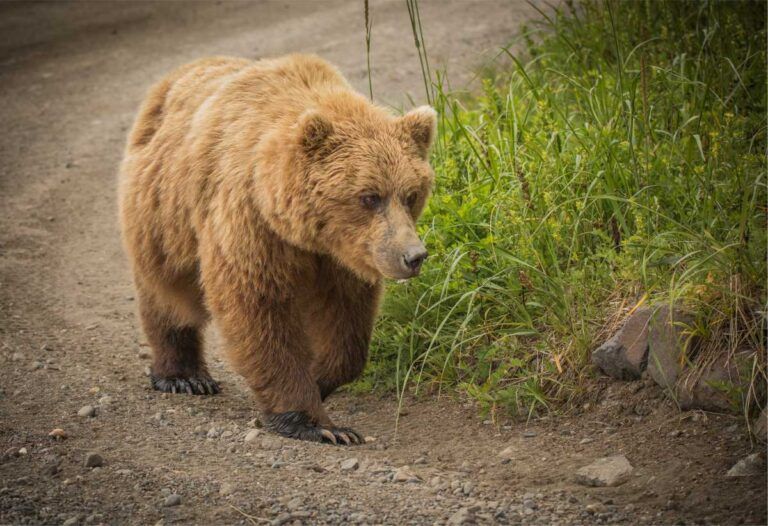 Hiking and Backpacking:
With the arrival of summer, hiking trails in Denali National Park become more accessible. Lace up your hiking boots and explore the park's scenic trails, ranging from easy strolls to challenging backcountry treks. The Savage River Loop, Horseshoe Lake Trail, and Mount Healy Overlook Trail are popular options that offer the opportunity to immerse yourself in Denali's breathtaking landscapes.
Savage River Loop Trail:
The Savage River Loop Trail is a relatively easy and family-friendly trail that starts near the Savage River Campground in Denali National Park (Mile 15 of the Denali Park Road). It is approximately 2.25 miles (3.6 kilometers) long and offers lots of spectacular views. It's not uncommon to spot wildlife such as Dall sheep, caribou, and many species of birds during your hike. The loop trail is well-maintained and features interpretive signs along the way, providing information about the park's geology, wildlife, and history.
Horseshoe Lake Trail:
The Horseshoe Lake Trail is a short, moderate hike located near the Denali Visitor Center. It is approximately 1.5 miles (2.4 kilometers) round trip and offers views of Horseshoe Lake and the surrounding mountains. The trail winds through forested areas and crosses a boardwalk over wetland habitats.
Mount Healy Overlook Trail:
The Mount Healy Overlook Trail is a more challenging and strenuous hike in Denali National Park. It is approximately 4.5 miles (7.2 kilometers) one way, or 9 miles (14.5 kilometers) round trip. The trail starts near the Denali Visitor Center and gradually climbs up Mount Healy. The trail can be steep at times and requires proper hiking footwear and preparation. The reward at the top is a breathtaking view of the surrounding wilderness and the possibility of spotting wildlife from a higher vantage point.
Discover an Amazing Alaska Itinerary
From 4 nights to 14 nights you'll find an Incredible Alaska Itinerary!
Park Ranger led hikes in Denali National Park
There are also Ranger-led hikes in Denali National Park. These are a fantastic way to explore the park's wilderness while learning from knowledgeable National Park Rangers. These hikes offer educational insights into the park's natural and cultural history, wildlife, and conservation efforts. Here's an overview of the ranger-led hikes in Denali:
Discovery Hikes:
Discovery Hikes are shorter hikes designed to introduce visitors to the park's natural wonders. Led by a ranger, these hikes typically cover approximately 1-2 miles and last around 2-3 hours. Along the way, rangers provide information about the park's flora, fauna, geology, and ecosystem dynamics.
Mountain Vista Hikes:
Mountain Vista Hikes offer a more challenging experience for those seeking longer and more strenuous hikes. These hikes can cover distances of 4-8 miles and involve gaining significant elevation. Rangers guide participants through alpine landscapes, sharing insights into the park's geology, wildlife, and mountaineering history.
Wilderness Access Hikes:
Wilderness Access Hikes provide visitors with the opportunity to explore off-trail areas in the park's wilderness. Led by experienced rangers, these hikes venture into more remote and less-visited regions, allowing participants to immerse themselves in the untamed beauty of Denali. These hikes require a higher level of physical fitness and stamina.
The availability and schedules of ranger-led hikes can vary, but they are typically offered throughout the summer, during the peak season. Some hikes may require advanced reservations due to limited group sizes. To participate in ranger-led hikes, check the Denali National Park website or visit the park's visitor center for the most up-to-date information on hike options and schedules.
When hiking in Denali, or anywhere in Alaska, remember to be prepared for changing weather conditions, carry water, wear appropriate clothing and footwear, and carry bear spray in case of any unwanted wildlife encounters.
If you aren't looking to take a Ranger led hike, you can still take advantage of the various ranger-led programs and interpretive talks offered in Denali National Park during June. These educational sessions provide insights into the park's natural and cultural history, wildlife, geology, and more. Attend a campfire talk, or evening program to enhance your understanding of Denali's unique ecosystem and the challenges faced by its inhabitants.
Scenic Bus Tours:
Embark on a scenic bus tour along Denali Park Road, which stretches for 92 miles into the heart of the park. Currently, bus tours only go to Mile 43, due to a landslide in 2021, but visitors will still experience incredible views of Denali and see much of the majesty of the park.
These narrated tours provide an informative and comfortable way to explore Denali's vast wilderness, offering opportunities for wildlife sightings, scenic viewpoints, and stunning photo opportunities. June provides favorable weather conditions for these bus tours, allowing you to admire the park's beauty from the comfort of a bus.
Flightseeing Tours:
For a truly unique perspective on Denali National Park, consider taking a flightseeing tour. These aerial excursions offer unforgettable views of the park's expansive landscapes, including the majestic Denali mountain itself. Fly over glaciers, remote valleys, and towering peaks, and witness the grandeur of the Alaskan wilderness from above. Flightseeing tours provide an incredible opportunity to capture breathtaking photographs.
Many of the flightseeing tours over Denali depart from Talkeetna 130 miles south of Denali National Park. We recommend flying with Talkeetna Air Taxi, who not only offer tours over Denali but the opportunity to land on a Glacier. There are a few flightseeing companies that depart from closer to Denali including Denali Air.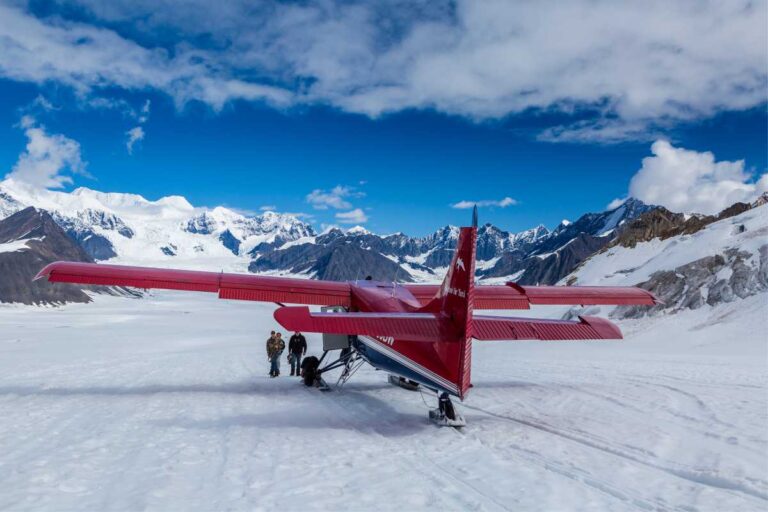 Visiting Kenai Fjords National Park in June
If you're looking for stunning coastal scenery and abundant marine wildlife, Kenai Fjords National Park is the place to be in June. This park is best explored by boat tour, and you'll have a chance to see humpback whales, gray whales, orcas, sea lions, bald eagles and more. The two most popular boat trips are with Major Marine Tours and Kenai Fjords Tours. Don't miss the chance to see the park's glaciers up close and hear the sounds of calving ice echoing through the fjords.
Boat tours range from a few hours to full-day excursions that take you deep into the park, offering opportunities to see glaciers, wildlife, and scenic landscapes. Knowledgeable guides provide commentary on the area's natural history, wildlife, and glaciology, enhancing your understanding of the park.
For a more immersive experience, consider a guided kayaking tour in the park's pristine waters. Paddle along the coast, navigate through icy waters, and get up close to glaciers and marine wildlife. Kayaking tours allow for a unique perspective on the park's rugged coastline and provide opportunities for quiet observation of the surrounding nature.
Kenai Fjords National Park offers several hiking trails easily accessed near Exit Glacier. The Exit Glacier area offers well-maintained trails of varying difficulty providing access to the stunning Exit Glacier itself. Guided hikes are available, offering informative insights into the park's geology, flora, and fauna.
Notable Glaciers in Kenai Fjords National Park:
Exit Glacier
One of the most accessible glaciers in the park, Exit Glacier can be reached via a short hike from the Exit Glacier Visitor Center. This glacier is a popular attraction, allowing visitors to witness the dramatic impact of glacial movement on the landscape. Exit Glacier is the only part of the Kenai Fjords National Park that is accessible by road. Take the Herman Leirer Rd (also known as Exit Glacier Rd) at mile 3 of the Seward Highway. 
If you're interested in camping near Seward Alaska, click here.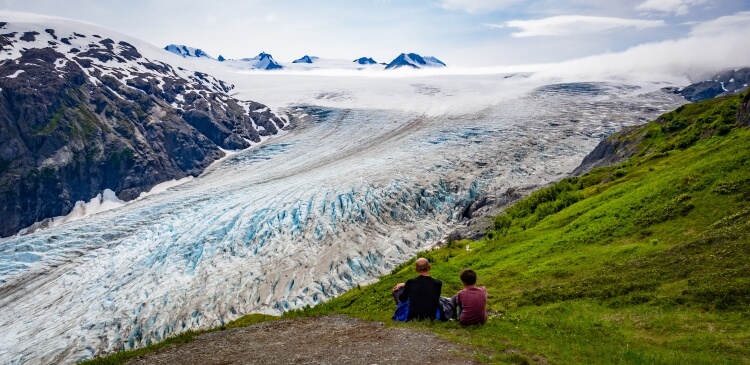 Aialik Glacier
Aialik Glacier is a tidewater glacier that descends from the Harding Icefield into Aialik Bay. It is known for its impressive size and massive ice walls. Boat tours often visit this glacier, providing awe-inspiring views and opportunities to witness calving events, where chunks of ice break off and plunge into the water. Aialik Glacier is typically only seen on longer boat cruises of more than 6 hours as it is in the farther reaches of the national park.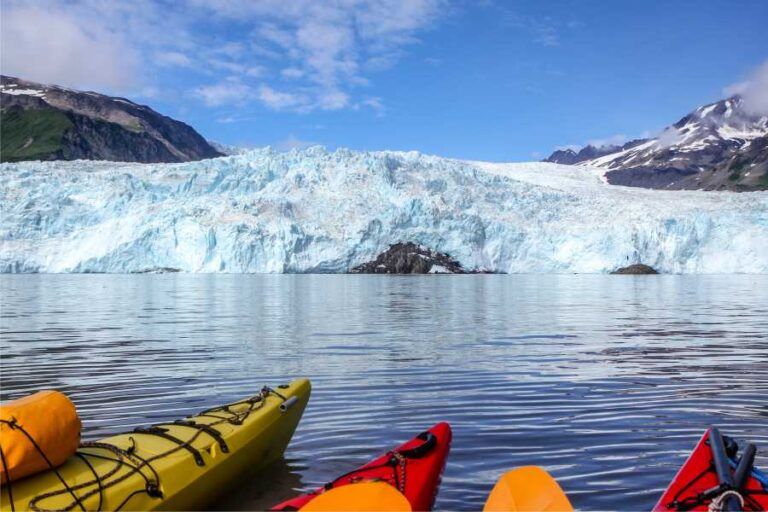 Holgate Glacier
Holgate Glacier is another impressive tidewater glacier within Kenai Fjords National Park. Located in Holgate Arm, this glacier offers stunning views and is often a highlight of boat tours. The sight of this magnificent glacier surrounded by rugged mountains and crystal-clear waters is a true marvel. Holgate Glacier is easier to reach and is often seen on longer boat cruises of 6 hours or more.
Whether you choose a boat tour, kayak adventure, or hiking excursion, you'll have the opportunity to witness the park's majestic glaciers, captivating wildlife, and stunning landscapes, creating unforgettable memories of your visit to this pristine Alaskan wilderness.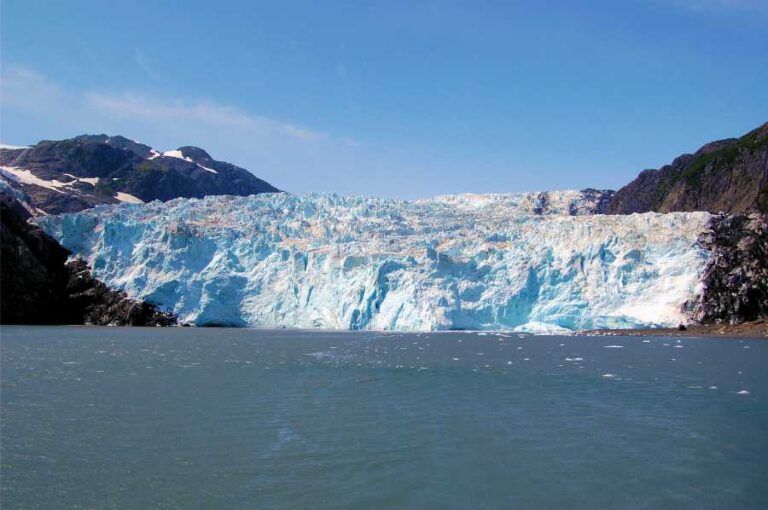 Visiting Glacier Bay National Park in June
Visiting Glacier Bay National Park in June offers a remarkable experience as the summer season brings milder weather and abundant wildlife.
Glacier Bay is renowned for its stunning glaciers, which are the highlight of any visit. In June, the glaciers are warming up which increases the calving activity. You are likely to witness dramatic displays of ice breaking off and crashing into the water. Some of the highlights of visiting Glacier Bay include seeing glaciers like Margerie Glacier and Grand Pacific Glacier. The park's pristine fjords, snow-capped mountains, and lush forests add to the breathtaking scenery.
June is an excellent time for wildlife viewing in Glacier Bay National Park. The park is home to a diverse array of wildlife, including humpback whales, orcas, sea otters, harbor seals, Steller sea lions, bald eagles, and a variety of bird species. The nutrient-rich waters of Glacier Bay attract these animals, providing ample opportunities for wildlife sightings.
The vast majority of visitors to Glacier Bay will be aboard one of the many cruise ships that visit throughout the summer. But it is possible to visit Glacier Bay National Park independently as well. The only lodge in the park is Glacier Bay Lodge, but the nearby Gustavus provides accommodation, camping and access via flights or the Alaska Marine Highway.
Glacier Bay Lodge in Bartlett Cove is the launching point for day boat tours of the park as well as hiking and kayaking excursions.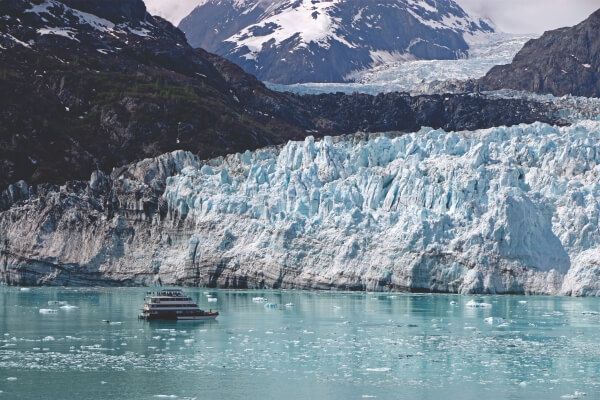 Is June a good month to Cruise to Alaska?
June is one of the best months to take an Alaska cruise. The weather is generally mild and relatively dry, the scenery is breathtaking, and you'll have a chance to see whales, dolphins, and other marine life from the deck of your cruise ship. May and June in Alaska are two of the driest months of the year, so this is the best time of year to miss the rainy season in the Inside Passage.
In June, you can expect average temperature ranges from 50°F to 65°F (10°C to 18°C). This may not be beach weather, but with the right layers, it can be very pleasant for an Alaska Cruise in June.
June also marks the beginning of the peak wildlife season in Alaska. The return of migratory birds, as well as plenty of humpback whales and orcas that make the Inside Passage home during the summer months. June cruises are likely to see other Alaskan wildlife such as seals, sea lions and otters.
Alaska's natural beauty is truly awe-inspiring, and June showcases the state at its finest. Snow-capped mountains, lush forests, pristine glaciers, and sparkling fjords create a stunning backdrop for your cruise. The landscape is vibrant and lush with blooming wildflowers and cascading waterfalls, offering breathtaking vistas without ever leaving the deck of your cruise ship.
June is famous for its long daylight hours, which is why Alaska is known as "The Land of the Midnight Sun." This means more time to explore and take in the sights during your cruise. 
here is a list of Alaska's best Things to do.
Alaska's glaciers are a highlight of any cruise, and June offers optimal conditions for experiencing these icy wonders. The warmer temperatures lead to increased glacial activity, with calving events more frequent during this time. You'll have the opportunity to witness massive chunks of ice breaking off glaciers and crashing into the water, creating a mesmerizing spectacle.
While June is still a popular time to visit, it tends to be less crowded compared to the peak months of July and August. This means you can enjoy a more relaxed and intimate cruise experience, with shorter lines, fewer crowds at popular attractions, and a greater sense of tranquility throughout your journey.
cruise season in Alaska continues to expand and now there are cruises from April to October. However, for many reasons, June is still considered one of the best months to cruise to Alaska. From the mild weather and abundant wildlife to the stunning scenery, June offers a remarkable Alaskan cruise experience that you won't want to miss.
Can you see The Northern Lights in Alaska in June?
Seeing the Northern Lights (Aurora Borealis) in June is highly unlikely in Alaska. The phenomenon is typically associated with darker, colder months when the nights are longer, such as in fall, winter, and early spring. June, with its long daylight hours and milder temperatures, does not provide the optimal conditions for observing the Northern Lights.
Visitors seeking to witness this natural spectacle should plan their trip during the winter months when the chances are highest. If seeing the Northern Lights is a priority for your trip, consider visiting in the fall or winter. We offer a Northern Lights Tour that may be perfect for any Aurora Hunter.
What's the Alaska Weather like in June?
In June, Alaska experiences mild temperatures and long daylight hours. June is also one of the driest months of the year in Alaska.
The average high temperature in Anchorage is around 65°F (18°C), while the average low is around 47°F (8°C). However, temperatures can vary widely depending on where you are in the state.
In June, Juneau, Alaska experiences relatively mild temperatures as the region enters its summer season. The average high temperature is around 62°F to 68°F (16°C to 20°C), while the average low temperature is typically between 48°F to 54°F (9°C to 12°C)
When visiting Alaska in June, it's always a good idea to pack layers of clothing to accommodate temperature changes throughout the day.
How long is it daylight in June?
The good news is that June is the month with the longest daylight hours in Alaska. By early June Alaska is already experiencing extremely long days and by June 21, is the longest day of the year, Fairbanks can experience daylight of more than 22 hours.
The exact duration of daylight can vary slightly from year to year and may also be affected by the specific location within Alaska. The farther north you travel towards the Arctic Circle, the more daylight you will experience. Fairbanks is only a few hundred miles south of the Arctic Circle where the sun doesn't set during the peak summer season.
Conclusion
June is a fantastic time to visit Alaska, with mild weather, long days, and plenty of opportunities to explore the state's natural beauty. Whether you're interested in hiking, wildlife watching, or cruising, there's something for everyone in Alaska in June.
Check out our list of summer Alaska tours, perfect for June in Alaska.
Amazing Summer Activities in Alaska