What does a luxury vacation to Alaska entail? That may depend on your definition of Luxury. While some travelers prioritize high-end hotels and transportation, others seek exclusive travel experiences and steering clear of crowded tourist spots. Regardless of your personal definition of luxury, we compiled a captivating list of experiences and tour ideas that will undoubtedly meet the definition of any Alaska Luxury Vacation.
Luxury Alaska Train Trips
Luxurious tours on the Alaska Railroad offer an extraordinary way to experience the breathtaking beauty of Alaska's landscapes in comfort and style. The Alaska Railroad is renowned for its scenic Alaska rail vacations, traversing through majestic mountains, pristine forests, and picturesque coastal areas. But to experience all of this in their premium class GoldStar dome train, takes luxury to another level.
Lavish, well-appointed train cars offer spacious seating with large glass dome ceilings, which allow for unobstructed views of the stunning Alaska scenery. This luxury train even has an outdoor, upper-level viewing platform. Onboard, the GoldStar service continues with meals and drinks included. 
Throughout the journey, knowledgeable guides share fascinating insights, historical facts, geological wonders and point out wildlife sightings along the journey.
Luxury Alaska train tours on the Alaska Railroad GoldStar dome train allow you to immerse yourself in the natural wonders of Alaska while enjoying the finest comforts and amenities. The Alaska Railroad train tours offer various itineraries to suit the needs of many different travellers. From day trips to multi-day journeys, a train journey through Alaska is sure to meet your definition of luxury travel.
Visit AlaskaRailroad.com to learn more.
Luxury Small Ship Cruises to Alaska
Small ship cruises to Alaska offer an intimate and immersive way to explore the region's stunning landscapes, wildlife, and fascinating history. They provide unique itineraries that allows guests to access remote areas and navigate narrow channels and fjords that larger ships cannot reach. 
Whether you're seeking an active adventure, cultural immersion, or indulgent relaxation, a small ship cruise to Alaska can provide an unforgettable journey.
Here's an overview of some notable small ship cruise companies that offer luxury Alaska vacations:
Uncruise Adventures 
Uncruise specializes in small ship expeditions that focus on active adventures and personalized experiences. Their itineraries often include activities like kayaking, hiking and paddleboarding. With a fleet of expedition vessels, Uncruise emphasizes close encounters with wildlife and opportunities to explore off-the-beaten-path destinations in Alaska's wilderness.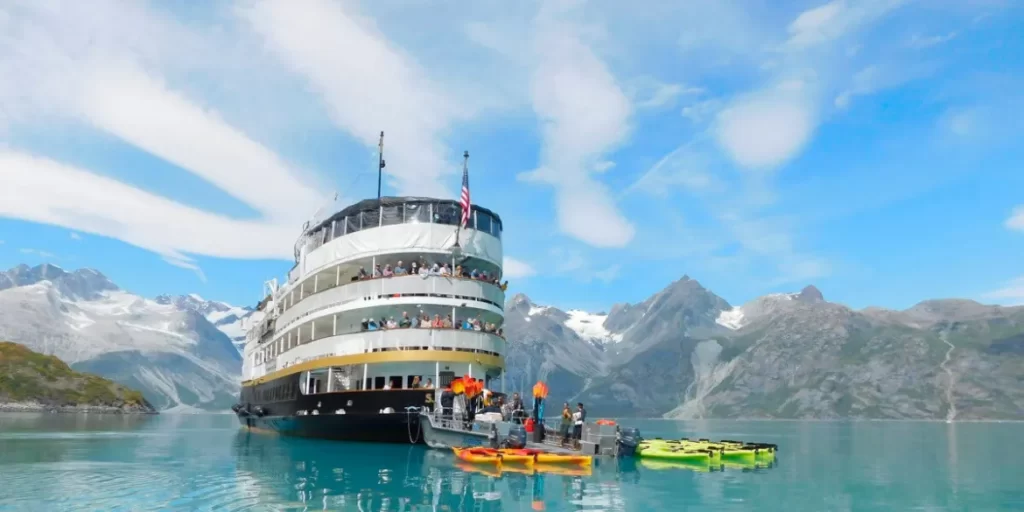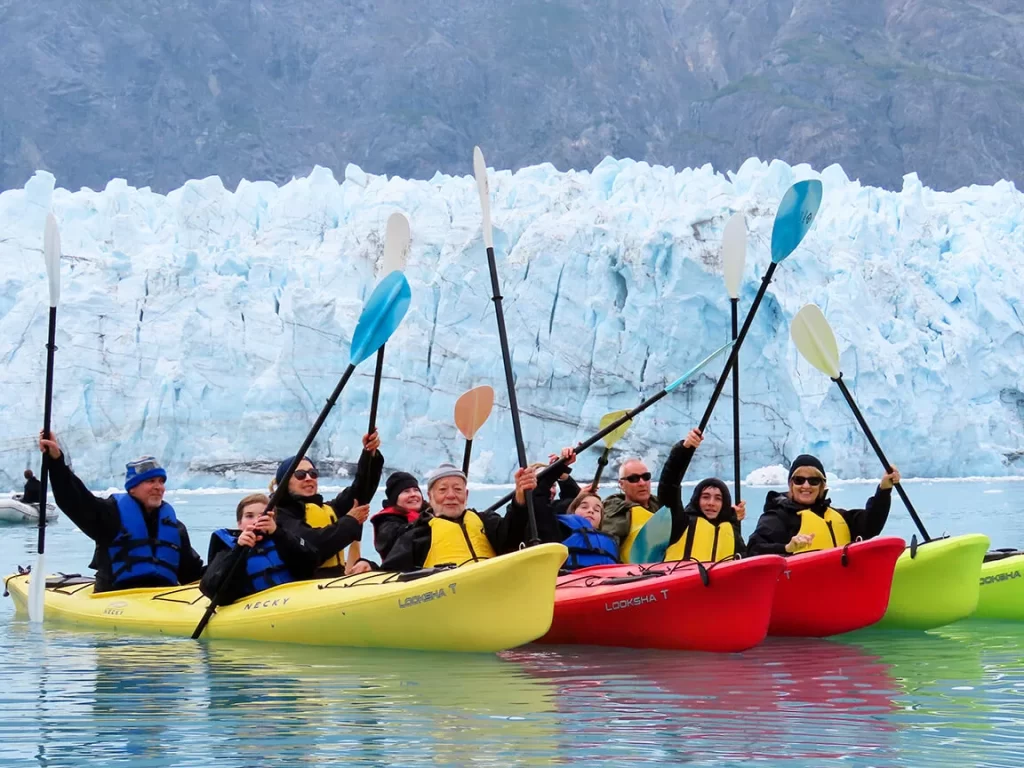 Alaskan Dream Cruises
Alaskan Dream Cruises offers intimate cruises with a strong focus on authentic Alaskan experiences. Their small ships provide a cozy and welcoming atmosphere, while their itineraries often include visits to remote villages, cultural immersion activities, and wildlife viewing opportunities. Alaskan Dream Cruises is committed to sustainable and responsible tourism practices.
Silversea Cruises
Silversea Cruises is a luxury small ship cruise line that offers all-inclusive voyages to Alaska. Their fleet includes elegant expedition ships with spacious suites and world-class amenities. Silversea's Alaska cruises feature enriching onboard lectures, gourmet dining experiences, and guided shore excursions. They prioritize personalized service and aim to provide a refined and luxurious journey.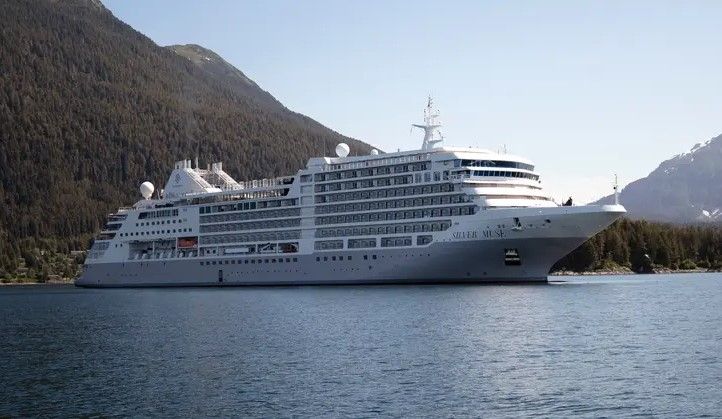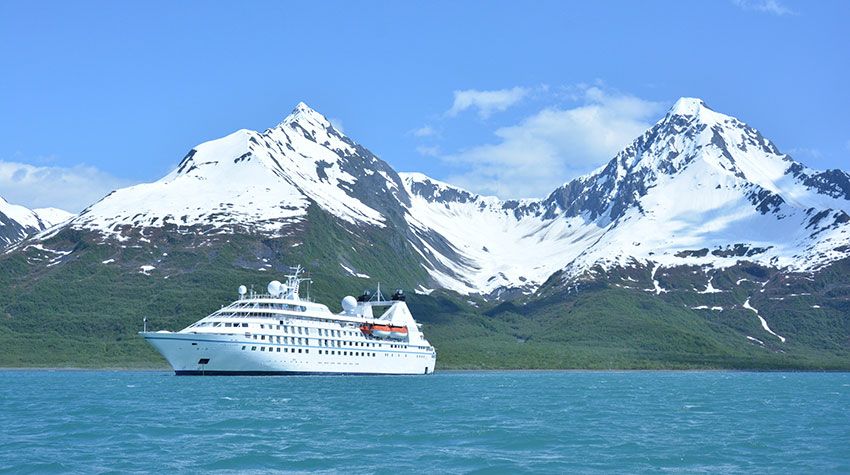 Windstar Cruises
Windstar Cruises offers a unique blend of luxury and adventure on their small, yacht-style ships. Their Alaska itineraries focus on exploring hidden coves, narrow fjords, and remote wilderness areas. Windstar Cruises provide exceptional onboard amenities, including upscale dining options, spacious staterooms, and attentive service. They often incorporate activities like kayaking, Zodiac excursions, and wildlife spotting.
Luxury Travel on large Cruise Ships
Not interested in a small cruise ship. It's still possible to experience amazing luxury, even on a large cruise ship. Many of the large cruise lines also offer luxury options above and beyond standard amenities. These are typically available to guests that book in their exclusive suites.
Princess Cruises offers private concierge service to its suite guests, while Norwegian Cruise Lines offers a private restaurant, exclusive pool, and cocktail bar to guests in their suites and Haven Suite complex. 
Celebrity Cruises also offers guests in "Suite Class" access to The Retreat, with its private lounge, sundeck and pool and Luminae, a dedicated restaurant with a menu curated by Celebrities' own Michelin Star chef.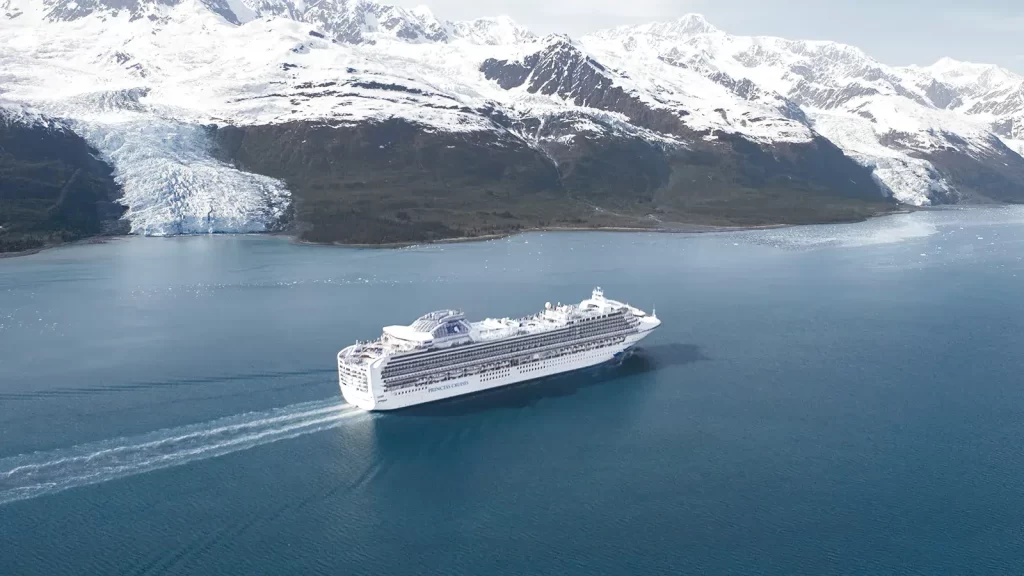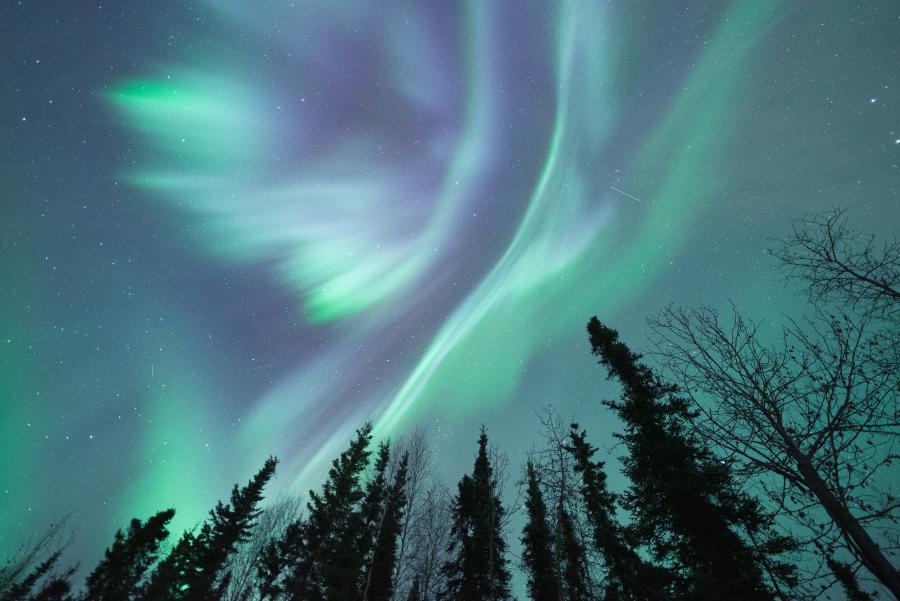 Luxury Northern Lights Trips to Alaska
Although Alaska's best weather is in the summer, many visitors brave the fall, winter, and spring months in hopes of catching the mesmerizing dance of the Northern Lights.
Alaska's vast wilderness and pristine night skies provide the ideal backdrop for encountering the captivating Northern Lights. Picture yourself nestled in a cozy, secluded lodge, or a luxurious wilderness resort, awaiting the magical spectacle of shimmering curtains of green, purple, and pink hues dancing across the sky. With minimal light pollution and optimal positioning near the Auroral Oval, Alaska offers prime opportunities for witnessing nature's most enchanting light show.
Two of Alaska's most famous accommodations for Northern Lights viewing are Chena Hot Springs Resort and Borealis Basecamp. These retreats provide the perfect haven to explore the awe-inspiring aurora sightings.
While in Alaska in the winter, you may as well indulge in the unique activities that Alaska can offer. Try dog sledding across a wintry landscape, take off on a helicopter tour to remote vantage points, or indulging in gourmet wilderness dining experiences under the Northern Lights. These incredible adventures ensure that you will creating lasting memories to stay with you forever.
Borealis Basecamp
The geodesic domes that make up the basecamp have been uniquely designed with clear roofs, giving you a chance to see the aurora from the warmth of your room in the wintertime. One of the very few unique accommodations like this, anywhere in the world. Located 25 miles north of Fairbanks, Alaska.
Alaskans and visitors enjoy Chena Hot Springs year-round; however it is best known for its northern lights viewing in the wintertime. Located far away from the light pollution of the Fairbanks, Chena Hot Springs will also provide a northern lights wake-up call, whenever the aurora is out dancing in the sky, and you've fallen asleep. While the natural hot springs are the dependable main attraction, several other activities are available including dog sledding. Located 60 miles east of Fairbanks on Chena Hot Springs Road.
Alaska Luxury Tours Destinations
Whether you choose to see Alaska on a luxury tour, or not, you are bound to want to see all the incredible natural wonders that Alaska has to offer. Alaska has incredible national parks, wildlife viewing and unmatched scenery. Here are some of the top destinations for any Alaska luxury vacation.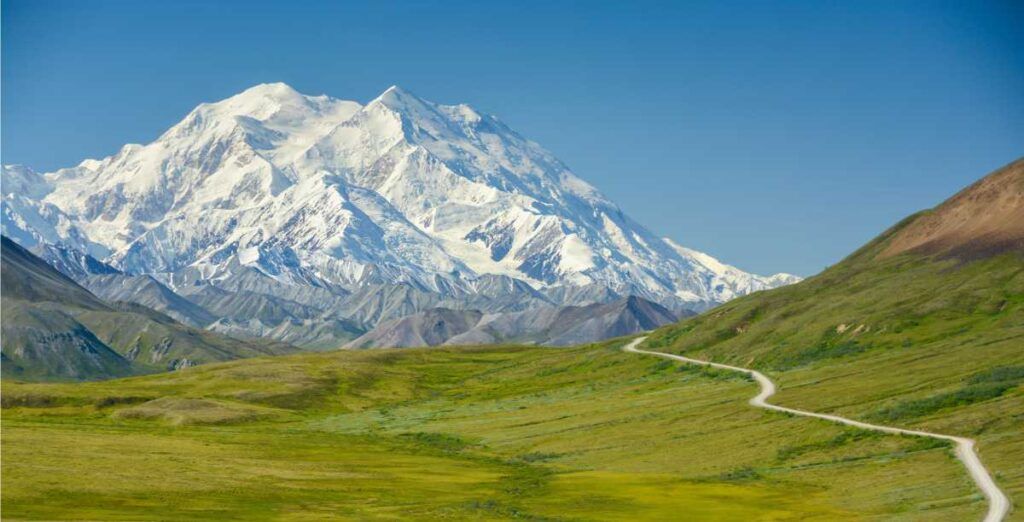 Denali National Park
Denali National Park, located in the heart of Alaska, is a pristine wilderness renowned for its towering peaks, vast tundra, and abundant wildlife. Encompassing over six million acres, it is home to the iconic Denali (formerly Mount McKinley), the highest peak in North America. The park is teeming with wildlife, such as grizzly bears, moose, caribou, wolves, and Dall sheep, providing ample opportunities for wildlife enthusiasts and photographers.
For a more exclusive and personalized experience, consider booking a private guided tour of Denali National Park. Private tours allow you to create the ideal itinerary, ensuring that you visit the park's most captivating locations while enjoying the undivided attention of an experienced guide. These tours often include luxury transportation, gourmet meals, and the opportunity to explore the park's wilderness in a secluded and intimate setting, stepping away from the crowds.
For a truly extraordinary experience, consider a helicopter or plane tour of Denali National Park. These exclusive air tours provide a bird's-eye view of the park's vast wilderness, towering mountains, and glaciers. Fly over breathtaking landscapes, spot wildlife from above, and land in remote areas for a closer look at the park's pristine beauty. These tours often come with luxury amenities, including personalized narration and champagne to celebrate your adventure.
Denali National Park is a cherished destination for those seeking adventure, tranquility, and a chance to connect with nature on a grand scale. Its awe-inspiring beauty and untouched wilderness make it a must-visit location for outdoor enthusiasts and those seeking an authentic Alaskan experience.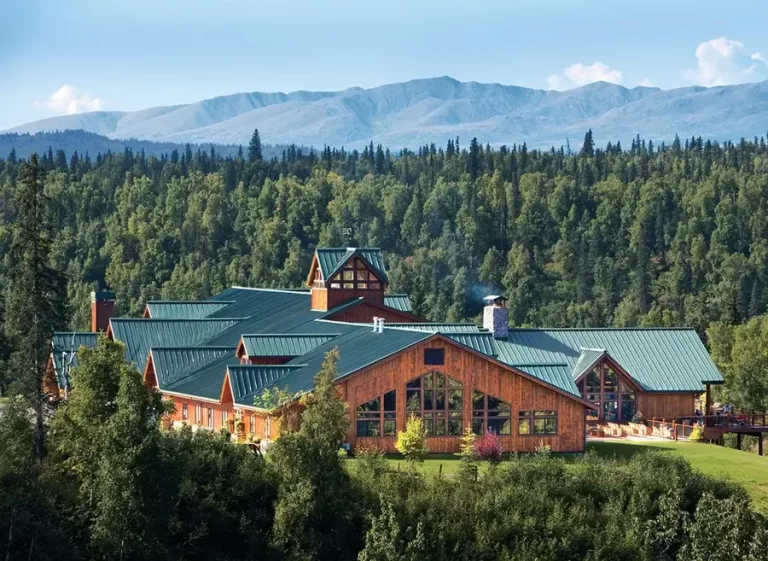 Luxury Hotels near Denali National Park.
Denali Princess Wilderness Lodge is your starting point for your complete Denali National Park memory. The park is six-million acres, full of wildlife and, of course, North America's highest peak. The lodge boasts over 600 rooms, six restaurants, and all the amenities you would expect from a luxury Alaskan lodge. In addition, their tour desk can help arrange a plethora of summer activities, from dog mushing to white water rafting or flightseeing.
Mt. McKinley Princess Wilderness Lodge is in a stunning setting and prides itself on terrific views from its massive windows of North America's tallest mountain – Denali. There is also a hot tub, walking trails, and access to whitewater rafting. The lodge has three dining options appealing to a wide variety of palates. Located at mile 133 Parks Highway in Denali State Park (100 miles south of Denali National Park)
Talkeetna is a few hours south of Denali but is the basecamp for many Denali adventures. Set on a ridge above the town of Talkeetna, Talkeetna Alaskan Lodge offers majestic views of Denali and the Alaska Range. Be sure to book a mountainside room to wake up and gaze at Denali. This resort offers a gorgeous lodge with comfortable rooms and unique Alaska cuisine at their on-site restaurants.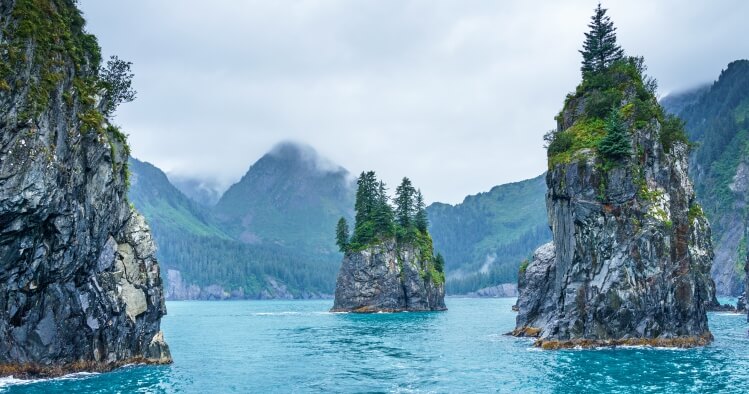 Kenai Fjords National Park
Kenai Fjords National Park, located on the Kenai Peninsula, near Seward Alaska. It is a spectacular landscape with stunning fjords, glaciers, and diverse marine wildlife. The park is characterized by its rugged coastline, ice-capped peaks, and pristine wilderness. 
The centerpiece of Kenai Fjords National Park is the Harding Icefield, a vast expanse of ice covering over 300 square miles. From this icefield, numerous tidewater glaciers flow down into the ocean. Exit Glacier, a few miles from Seward Alaska, is the only part of the national park that is accessible by road. A short hike from the park's visitor center will lead you to viewpoints overlooking Exit Glacier.
Visitors to Kenai Fjords National Park can explore its natural wonders through boat tours, kayaking expeditions, and hiking trails. Boat tours take you deep into the fjords, allowing you to witness the dramatic cliffs, cascading waterfalls, calving glaciers, and abundant marine wildlife. Keep an eye out for sea otters, sea lions, harbor seals, puffins, and even the occasional humpback or orca whale.
Luxury Hotels near Kenai Fjords National Park.
Seward Windsong Lodge, located just outside the city of Seward on Exit Glacier Rd offers 216 beautiful rooms and 18 cabins, each nestled throughout the property. End your day at Resurrection Roadhouse Restaurant, for an amazing dining experience.
Kenai Fjords Wilderness Lodge
To access this remote wilderness lodge, you will take a 12-mile water taxi from Seward to Halibut Cove, a small Kenai peninsula town. The Kenai Fjords Wilderness Lodge provides remote wilderness on secluded Fox Island. They want to ensure you get away from it all, unplug and unwind so that you won't find any electrical outlets in the cabins, but you will find gourmet meals and smooth pebble beaches.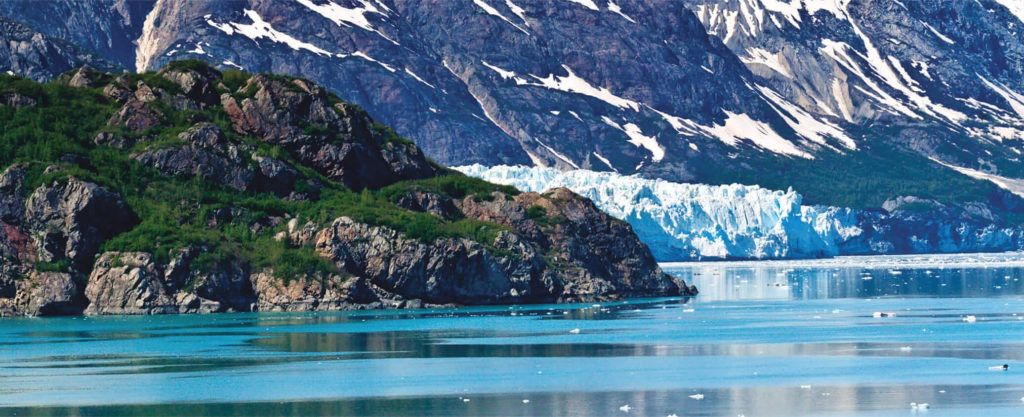 Glacier Bay National Park
Glacier Bay National Park, located in Southeast Alaska, is a captivating and pristine wilderness known for its breathtaking glaciers, towering mountains, and diverse marine ecosystems. Encompassing over 3.3 million acres, the park is renowned for its glaciers, with more than a dozen tidewater glaciers actively calving into the sea. 
In addition to glaciers, the park boasts a rich marine ecosystem. Its nutrient-rich waters support an abundance of marine life, including humpback whales, orcas, sea lions, seals, porpoises, and seabirds. Visitors can embark on boat tours or kayak excursions to explore the park's pristine fjords, witness marine mammals in their natural habitat, and marvel at the diversity of wildlife.
Glacier Bay National Park is also home to much more than just icy glaciers. It includes dense forests, alpine meadows, and rugged mountains. The park is teeming with wildlife, such as brown bears, mountain goats, moose, wolves, and a variety of bird species. 
Glacier Bay can be accessed by boat or plane, although most of its visitors will be aboard the many large cruise ships that cruise its waters on an Inside Passage cruise. Some of the small cruise ships listed above also visit Glacier Bay. These small ships are also able to explore smaller fjords and allow for visitors to disembark on zodiac boats, kayaks or paddleboards to see more of this incredible landscape from up close.
The Glacier Bay Lodge offers the only accommodations in Glacier Bay National Park and Preserve. This lodge provides stunning views of the Fairweather Mountain range and Glacier Bay. Dine on fresh Alaskan seafood, watch the glaciers calve, learn something new from the National Park Rangers, or take a hike in the temperate rainforest. Glacier Bay Lodge is a longtime favorite of Alaskans and visitors alike.
Prince William Sound
Prince William Sound is a breathtaking marine region in South Central Alaska renowned for its stunning fjords, glaciers, rugged coastline, and abundant marine life. 
Prince William Sound is home to numerous glaciers, including the magnificent Columbia Glacier, the largest tidewater glacier in the Sound. Boat tours like Stan Stephens Cruises and Glacier Wildlife Cruises on the LuLu Belle offer a variety of tours that explore Prince William Sound. Some of the notable glaciers that are often included in these cruises include Meares Glacier. This tidewater glacier is in Unakwik Inlet, and boat cruises allows passengers to get relatively close to the glacier, providing excellent photo opportunities and a chance to witness the dynamic nature of glacial activity. Surprise Glacier, located in Harriman Fjord, showcases towering ice walls and intricate formations. Another potential stop on a Prince William Sound cruise is Harvard Glacier, located in College Fjord. This glacier is known for its mesmerizing blue hues and grandeur. 
Beside the incredible glaciers, Prince William Sound is teeming with a diverse array of marine wildlife, such as humpback whales, orcas, sea otters, and harbor seals. The region is also a haven for seabirds, including puffins, bald eagles, and cormorants. Along the shoreline, you may spot brown bears, moose, and various bird species.

Luxury Lodges in Alaska
There are many exciting luxury lodges in Alaska. We've compiled a list of 33 of Alaska's best luxury lodges. Many of Alaska's most luxurious accommodations are remote lodges, that require flying in or taking a boat. However, many fine properties are easily accessible in Alaska's most visited destinations, such as Denali National Park and Kenai Fjords National Park. Those accommodations have been listed above in their region.
Four of the most famous luxury lodges in Alaska are:
Built to resemble the original owner's Swiss heritage, Alyeska Resort is renowned for its skiing and views of the rugged Chugach Mountains. Now it is also a great spot year-round for hiking, sightseeing, and a little self-indulgence. Their Nordic spa, Seven Glaciers restaurant and facilities earn them a four-star rating. Located in Girdwood, Alaska, 38 miles south of Anchorage. 
Tutka Bay Lodge
Tutka Bay Lodge, near Homer Alaska, sits in a private Kenai Peninsula cove on the edge of Kachemak Bay State Park. The main lodge is where visitors gather for meals, cooking classes, or complimentary massage and yoga classes. In addition, they offer daily wine and beer tastings featuring Alaska micro-brewed beers. There are six cabins and a few rooms inside the lodge. All provide tranquility and luxury in the Alaskan wilderness.
Tordrillo Mountain Lodge
The six-bedroom main lodge offers rustic Alaskan architecture with posh amenities. There are two private cabins as well. They offer an exercise room, a hot tub, Wi-Fi, massage services, private baths, a sauna, an Astar Helicopter, use of bikes, kayaks, and more. In addition, there are year-round activities to give you a great Alaskan experience. From Heli-skiing in the winter to Heli-Fishing in the summer, the luxury Alaskan lifestyle awaits at Tordrillo Mountain Lodge, only a 40 minute flight from Anchorage.
Winterlake Lodge
Winterlake Lodge is on the Iditarod Trail at the entrance to the Alaska Range. Their private helicopter or fixed-wing bush plane will take you on adventures you have only dreamed of going on before. Enjoy the hot tubs and sauna for that extra curative boost. 198 air miles northwest of Anchorage and only accessible by air.
Amazing Summer Activities in Alaska