Klondike Highway
PDF Map
PDF Road Log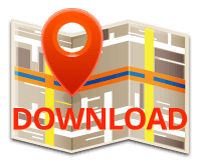 Skagway to Fraser
0
Pay attention to the speed limit signs as the police are very serious about the speed limits in Skagway. The reduced speed zone extends to the White Pass Summit mile 14.3/km 23.
1.4
Turn-off. On right (for northbound). Follows railroad track .6 mile/1 km to Gold Rush Cemetery where Jefferson Randolph "Soapy" Smith and Frank Reid are buried. Hiking trail leads from the cemetery to Reid's Falls.
1.6
Skagway River. Highway curves west past the White Pass and Yukon Route yard's and crosses Skagway River.
1.9
Jewel Gardens & Garden City Glassworks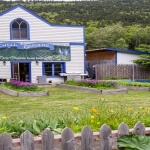 Jewell Gardens is one of the best show gardens in Alaska. In 2010 the Garden became the country's first certified organic show …
2.3
Dyea turn-off 7.7 mile/12.4 km road to Dyea, Skagway's neighboring town in goldrush days. Remains of a wharf, foundations of some buildings, and Slide Cemetery can be found here. Dyea road is narrow, high above the water in places and has no guard rail. Be extremely cautious.
5
Parking area. View of White Pass and Yukon Route Railroad on east side of canyon and the old Brackett Wagon Road on valley floor beside the Skagway River.
5.5
Parking area near Porcupine Creek was an ideal campsite for stampeders on the Trail of '98.
6.1
Parking.
6.9
US Customs Station. Open 24 hours in the summer months. All travelers entering the US must stop.
There are several parking areas along the highway with views of Pitchfork Falls and White Pass Yukon Route Railroad.
9.1
Parking, Historical information sign about the Klondike Gold Rush Trail. Good view of White Pass & Yukon Route and the canyon leading to Esk Glacier.
10
Parking area at waterfall.
11.1
Captain William Moore Bridge spans 110-foot/33.5 m gorge.
11.8
Parking with view of Captain William Moore Bridge, hanging glacier, Sawtooth Mountains, and Skagway River gorge.
13
Parking.
14.3
(km 23) White Pass Summit, parking. Highest point on the highway 3,292 ft/1003 m. The speed limit is 40mph/60 kmph from hereto Skagway, the police often have radar here. Mileage markers along the highway in Canada are in Kilometres.
15
(km 24) US/Canada boundary, parking. Highway begins descent into BC lake country. Time zone change. If you are traveling to the Yukon, it is one hour later. (PST in the Yukon)
15.5 
(km 25) Parking with view. Summit Lake and White Pass and Yukon Route RR station.
17.7
(km 28.5) Parking. Information Signs.
18
(km 29) Summit Creek, parking.
22.6
(km 36.5) Canadian Customs Station at Fraser. Open 24 hours. All vehicles must stop for inspection. View of Fraser Lake.
22.8
(km 36.8) Fraser, rest area with information sign.