7 days - 3 Night Inside Passage Cruise plus Dawson City Adventure
Sold out for 2023 - Inquire about alternative Itineraries
This incredible cruise up the Inside Passage and land tour to Dawson City may be the ultimate Northern Adventure available in 1 week. Knightly Tours has created this incredible custom itinerary For Bell's to allow visitors combine the relaxation and sightseeing of an Inside Passage cruise with exploration of the famous gold rush town of Dawson City in the Yukon in just 1 week.
Features
3 nights on the Holland America Cruise Ship Koningsdam
Juneau, Alaska's Capital and Mendenhall Glacier
Skagway and the White Pass and Yukon Train
Whitehorse, Yukon
2 nights in Dawson City, Home of the Klondike Gold Rush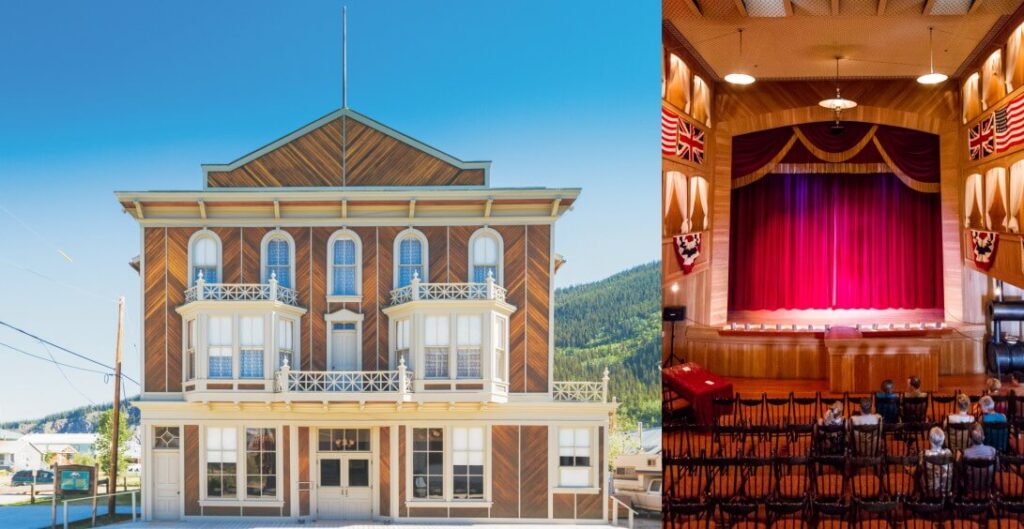 Day 1: Board you cruise and depart Vancouver
Today you will depart Vancouver for your exciting Alaska cruise. Your ship sails at 4:30pm.As you depart Vancouver you pass by Stanley Park and sail underneath the Lion's Gate Bridge headed for the Inside Passage.
Day 2: Cruising the Inside Passage
Spend a full day of cruising the protected waters of the Inside Passage, past countless islands, evergreen forests and a continual procession of birds and marine wildlife. Take time out from the scenery to enjoy some shipboard entertainment and informative talks on Alaska.
Day 3: Port of Call Juneau
Today you'll enjoy spectacular Inside Passage vistas as you cruise to Juneau, Alaska's capital city. One of the most popular optional shore excursions is to Mendenhall Glacier or you might consider sportfishing, flightseeing, whale watching or a tram ride up Mt Roberts. The Koningsdam is in port from 1:00pm until 10:00pm giving you plenty of time to explore Alaska's capital city.
Day 4: Arrive Skagway and Depart to Whitehorse
You arrive in Skagway today. Known as the gateway to the Gold Rush, Skagway is part of the Klondike Gold Rush Historic Park. You may disembark the ship after breakfast. This is the end of the cruise portion of your journey.
You will be directed to clear United States Customs and Immigration. Ensure that you communicate your departure times to the ships' staff so that you may disembark the ship in a timely fashion.
Next you will travel to Whitehorse. The first 28 miles of your trip will be on the famed White Pass & Yukon Route railroad, between Skagway, AK, and Fraser, BC. From Fraser you will continue to Whitehorse by motor coach. This is a spectacular journey through incredible mountains and gorgeous scenery. Your adventure departs from the White Pass Depot in Skagway and ends at the White Pass Depot in Whitehorse next to the Yukon River.
Overnight in Whitehorse. There will be time to visit the S.S. Klondike and the Old Log Church Museum.
Day 5: Fly to Dawson City
Today fly from Whitehorse to Dawson City. Here you will spend two nights in the heart of Gold Rush country.
Day 6: Free day in Dawson
The discovery of Klondike gold in 1897 led to one of the greatest gold rushes in history. By 1898, Dawson City was one of the biggest cities north of San Francisco and west of Winnipeg, with a population of 40,000. It was nicknamed "the Paris of the North" and boasted bustling dance halls, theaters, and hotels, along with the latest fashions from Paris.
Relax on the expansive outdoor deck at the Keno Lounge, enjoy a home-cooked meal at Belinda's Dining Room, or find a treasure to bring home at the Northern Wonders Gift Shop. Come discover all that the "Paris of the North" has to offer.
Day 7: Depart for Home
Today your arrangements end with your departure this morning.
After making your booking request you will be contacted by an Alaska travel expert from Knightly Tours.
You can discuss the details of your trip. Including how long you have and the highlights that you want to include.
You can customize your trip itinerary by:

Adding or removing days
Adding or removing tours
Adding flights or a cruise
Just ask for other custom options

When you have your dream Alaska itinerary complete, you can reserve your space and make a deposit.
Call Directly
You can call Knightly Tours directly and Tell them you are interested in Booking a "Bell's Tour" and they will help you out.
(US Only): 800-426-2123 extension: 222
International: (425) 998-5440 extension: 222
TERMS & CONIDITIONS
Reservations, Deposits and Final Payment.
A deposit of $500 per person required to confirm a proposal.  Unique, upscale lodges, guided sports lodges may require an incremental deposit of 30% of the total fare. You will be advised of this before you make a deposit on your vacation. Knightly Tours will be processing all credit cards. Final Payment is due 75 days prior to departure. Late arrival of final payment delays document delivery or may result in released or cancelled space that would be subject to cancellation fees.
Late Bookings
Bookings made within 75 days of departure require a credit card guarantee. If space is not confirmed no charges will be made to the card.  No space will be confirmed until this credit card guarantee is received.
Pricing
All pricing is USD, per-person based on a run of house hotel rooms double-occupancy rate. Single, triple, quad and children's rates are given on request when available. Package prices include all transportation, accommodations, sightseeing and courtesy transfers as outlined. Knightly Tours' preparation / planning costs are also included. Prices are subject to change without notice and any surcharges imposed by suppliers will be the responsibility of the guest regardless of payment status.  Price breakdowns are not given on vacation packages.
Schedules
All departure days of the week, dates and prices are published based on the most up to date information at time of printing. Knightly Tours reserves the right to alter dates, days of the week and prices based upon final schedules imposed by suppliers.  Knightly Tours reserves the right to substitute suppliers of equal or greater value at its sole discretion.
Changes
A $50 per person fee (maximum $150 per booking) will be assessed for changes made after receipt of final payment.
PLEASE NOTE NAME CHANGES ARE CONSIDERED CANCELLATIONS AND REBOOKINGS. ALL PENALTIES WILL BE APPLIED.
Documents
Documents will be sent electronically and will include all information.  If required vouchers that are needed will be included. Paper documents will be charged $50.  All documents will be sent 18 to 21 days prior to Knightly Tours first service.
Refunds
Request in writing must be received within 60 days of completion of the trip for services cancelled or altered by the vendor. No refunds will be made on services that are voluntarily cancelled or changed by the traveler.
Cancellation Charges
The purchase of comprehensive travel insurance is strongly recommended. Please provide written notice of cancellation. The following per person cancellation fees will be strictly enforced:
Prior to 75 days before tour departure:
$100 Administration Fee, plus any supplier cancellation charges
75-46 days before tour departure: 30% of fare, plus any supplier cancellation charges
      *     45-31 days before tour departure: 70% of fare, plus any supplier cancellation charges
30-0 days before tour departure:  100% of fare
Travel Insurance – Strongly Recommended
Sometimes bad things happen to good people! Knightly Tours wants you to book and travel with peace of mind. We strongly recommend that you buy Travel Insurance, so you can relax.
Through CSA Travel Protection we offer you a travel insurance program that provides you protection from
Trip Interruption & Cancellation, Travel Delay, Baggage & Document Loss, Emergency Assistance, Medical Expense Protection and 24-hour Emergency Assist Line.
Guest Responsibilities / Physical Limitations
You are responsible for determining your fitness for any trip and must notify Knightly Tours at time of booking of any physical or mental limitations that would require special services while traveling.  Specific tours and air carriers have weight restrictions and surcharges apply.  Guests' must give weights at the time of booking.  Avis car rentals require you to be 21 years of age and have a major credit card, for Hertz you must be 25 years of age and have a major credit card. Failure to notify Knightly Tours of the above conditions can result in loss of fares paid by the traveler to us. Guests booking airline travel will be required to give their full legal name and birthday at the time of booking.  No tour is confirmed until this information and deposit are received.
Immigration & Customs
Due to heightened security restrictions all cruise guests, and guest entering Canada should travel with a valid passport or Customs approved identification. All non U.S. citizens must a carry passport and appropriate visas.
Responsibilities
All vacations are handled under the business management of Knightly Travel Services, Inc. (dba Knightly Tours), at 19119 North Creek Parkway Suite 108, Bothell, WA 98011 (800) 426-2123. Written notification of claims against Knightly Tours must be given within 60 days of completion of tour and suits must be filed in the Court of the State of Washington. Knightly Tours acts solely as the agent for various transportation companies and sightseeing contractors and assumes no responsibility for any personal injury sustained while traveling to/from or on a Knightly Tours vacation or for loss or damage to any personal belongings while on our vacation. Acceptance of Knightly Tours travel documents by agent or individual is considered approval of all above condition