Glenn Hwy & Tok Cut-off
PDF Map
PDF Road Log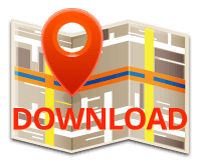 Tok Cut-off
125
Tok Alaska. (328 miles from Anchorage)
122.8
Sourdough Campground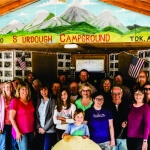 Wide, level, full and partial hookups, great tent sites, Wi-fi available. High-pressure carwash. Open-air museum with Gold Rush memorabilia. Authentic sourdough pancake …
122.6
Tok airstrip.
116.6
Large paved parking area.
109.5
Eagle Trail State Recreation Site. 35 camp sites, picnic shelters, water, toilets and trails. Public telephone. Grayling at mouth of Clearwater Creek (where it empties into Tok River). There are 2 good trails that lead from the campground. 1.5 mi to Tok Valley Overlook (fairly steep) and .9 mi walk along old Eagle Trail which borders the campground. mile 104.4/ Parking.
103.8
Bridge over Tok River, parking by river at east end of bridge.
99.4
Parking.
98.2
Bridge over Little Tok River, parking Good grayling fishing (in Little Tok River) use flies or small spinners
95.3
Large parking area.
91
Side road with bridge over Little Tok River, parking. Fishing.
90.1
Parking.
89
Parking.
87.6
Mineral Lakes, sloughs of Little Tok River.
85.7
Parking.
83.2
Bartell Creek.
81
Road to Mentasta, 6 miles.
79.5
Mentasta Summit, 2,434 ft.
78
Mentasta Lodge, visitor facilities.
77.9
Parking by Slana Slough, salmon spawning area.
76.3
Bridge over Mable Creek.
75.8
Bridge over Slana Slough.
75.5
Bridge over Slana River. Rest area with large paved parking area beside the river, toilets, tables.
73.9
Parking with view of Mentasta Mountains.
69
Parking.
68
Parking.
67.9
Carlson Creek.
65.5
Parking with view.
64.2
Porcupine Creek State Recreation Site. 12 camp sites, water, picnic area, tables, toilets, trails and fishing. Area is in foothills of the south slope of the Alaska Range. To the south lie the Copper River Valley and the Wrangell Mountains.
64.1
Porcupine Creek.
63
Viewpoint. Historic marker.
62.9
Duffy's Roadhouse. Emergency airstrip. No services.
60.9
Ahtel Creek. Fishing. Several gold and silver-lead claims located upstream.
60
Wrangell Mountains, named for Baron Wrangell, Russian governor of Alaska from 1830 to 1835. Looking southward, the peak to the left is 16,237-ft. Mt. Sanford; to the right, 12,010-ft. Mt. Drum. Mt. Wrangell, an active volcano next to Mt. Drum, is occasionally wreathed in smoke.
59.9
Junction with Nabesna Road, Slana is located at Mile 1. The road is 45 miles (first four miles are paved the rest is gravel). Before taking the Nabesna Road stop by the Slana Ranger Station at Mile .02 and inquire about the road conditions. You will need a 4-wheel drive to travel past Mile 28. For more information contact Wrangell-St. Elias National Park 907-822-5234.
56.3
Parking with scenic view. Gold rush Centennial info sign.
55.1
Parking with scenic view.
43.8
Indian River. Salmon spawning stream. Picnic area, at west end of bridge-tables, firepits, and toilets.
40.1
Parking
38.6
Parking.
38
Highway narrows westbound, if eastbound there is construction much of the way to Tok.
35.2
Chistochina River Bridges, parking at west end of Chistochina River Bridge No. 1. Chistochina River Trailhead.
34.5
Sinona Creek Bridge.
33.5
Village of Chistochina.
32.9
Airstrip.
31.4
Parking.
30.1
Small parking area on both sides of the highway.
28.1
Large parking area. Historical Marker describes early transportation routes.
24
Rest Area. Picnic tables, toilets. Path leads to Copper River.
17.5
Tulsona Creek, parking. Fishing for grayling.
13
Parking
9.5
Parking
6.3
Parking.
2.7
Village of Gakona. Post Office.
2
Gakona Lodge.
1.8
Gakona River Bridge. Copper and Gakona Rivers merge near here.
1
Scenic view of Gakona and Copper Rivers. Picnic tables.
0
Gakona Junction. The Tok Cut-off ends here, at the Richardson Highway. It is 13.5 miles south to the Glenn Highway Junction. It is 236 miles northwest to Fairbanks on the Richardson Highway and 128.5 miles south to Valdez. For full mile-by-mile description see the Richardson Highway Log .
Mileages for the next 13.5 miles are on the Richardson Highway.
128.5
(Richardson Highway Mileage) Gakona Junction. Junction of Richardson Highway and Tok Cut-off.
127
Village of Gulkana.
126.8
Gulkana River Bridge.
126
Parking.
118.1
Gulkana Airport.
117.5
Dry Creek State Campground. 50 camp sites, picnic shelters, water, toilets, trails and fishing. Campground is good for all types of recreational vehicles with walk-in area for tents. Fee area. Watch for bears & mosquitos.
115
Glenn Highway Junction. Here the Glenn Highway continues west 189 miles to Anchorage. Tok is 138 miles to the east on the Tok Cut-off. If you're headed south to Valdez, 115 miles, or north to Fairbanks, 249 miles see the Richardson Highway Log.
Copper Valley Visitor Center at the junction of the Glenn and Richardson Highways. 907-822-5555
Hub of Alaska.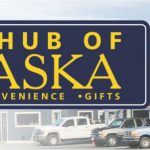 Hub of Alaska.  At the junction of the Glenn and Richardson Highways. Convenience store and gift shop. Full line of groceries, snacks, …
The following mileages are Glenn Highway Mileages to Anchorage, which starts from The Richardson Highway Junction.
189
Junction of Glenn Highway and Richardson Highway.
187