Locations in Interior Alaska
Tok

| Interior Alaska
Tok is often referred to as the "Gateway to Alaska," because it is the first major community in Alaska you come to when heading north. The Alaska Highway also intersects with the Glenn Highway leading to Glennallen, Valdez and Anchorage. The Glenn Highway between Tok and Glennallen is known as the Tok Cut-off.
The area was originally settled by Athabascan Indians and the name "Tok" is thought to be derived from an Athabascan word meaning "water." The origin of the town name, however, remains somewhat controversial. Some thought it came from the old mining maps from the late 1800s (long before Tok existed), which called the area "Tok/Slana." While others have said it was named after an construction worker's dog. However the name was decided, the modern community of Tok began as an Alaska Road Commission
Camp built for the construction and maintenance of the Alaska Highway.
Today the town has a population of approximately 1250. Its economy is based on tourism and for its size, Tok offers more hotel rooms and campsites than any other town in the state. Despite that distinction, it is still recommended you secure reservations at least a day in advance.
Tok is also known as the "Sled Dog Capital of Alaska," which is apparent from the number of kennels in town. Many locals are involved in dog racing on a recreational and professional level. Everyone from professional mushers to young children take part in sprint dog races, which are very entertaining. The race of Champions began in 1954 and takes place every March. It has become one of the most elite sprint dog races in North America.
Mainstreet Visitor Center has statewide information for your entire trip planning needs. Tourist attractions, RV parks campgrounds and hotels as well as local information on places to stay and things to see and do in the Tok area. The Visitor Center is also home to a museum & gift shop. 907-883-5775
www.tokalaskainfo.com
The Alaska Public Lands Information Center in Tok is open year-round. It is located in the combined facility which also houses the State Troopers. It is on Mainstreet adjacent to the Tok Visitor Center. There is a trip planning area, fish, bear and bird exhibits, along with a display of native arts and crafts. The counselors at APLIC are well trained and have lots of information about the State and specifically about the remote regions to the east of Tok and into the Yukon.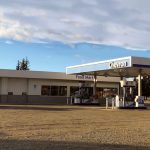 Young's Chevron Gas, diesel, propane, convenience store, deli and espresso. Automotive and truck repairs. Tire sales and service. Car wash. Dump station …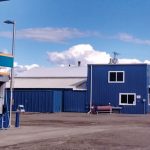 Northern Energy Tesoro gas, diesel, oil & propane. Tire sales & repair, oil changes & lube service. 24-hour fuel at pump with …
In July of 1990, Tok faced extinction when a lightning-caused forest fire jumped two rivers and the Alaska Highway, putting both residents and buildings in peril. The town was evacuated and even the efforts of over a thousand firefighters could not stop the fire. At the last minute a "miracle wind" (so labelled by Tok's residents) came up, diverting the fire just short of the first building. Evidence of the burn can be seen on both sides of the highway just east of Tok.
Snowshoe Motel has modern motel units with in-room coffee maker, fridges, & microwaves. Very reasonable rates. There is a new laundromat with …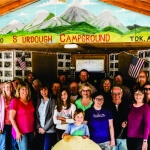 Wide, level, full and partial hookups, great tent sites, Wi-fi available. High-pressure carwash. Open-air museum with Gold Rush memorabilia. Authentic sourdough pancake …
Currently we do not have any listings here.