Locations in Interior Alaska
Delta Junction

| Interior Alaska
Delta Junction marks the true end of the Alaska Highway. From here, going north or south, you will be traveling on the Richardson Highway, which starts in Valdez and ends in Fairbanks. There is a large commemorative milepost at the visitor center to mark Mile 1422 of the Alaska Highway.
This area was a traditional hunting territory of the Athabaskan Indians and features spectacular views of the Alaska Range and the Delta River. In 1903, what was to become the Richardson Highway was built from Valdez to Fairbanks because of the Fairbanks Goldrush. This trail used a portion of the Valdez Eagle trail made famous by the Klondike Gold Rush.
Pogo Mine is an underground gold mine 40 air miles from Delta Junction. The mine began production in April 2007 and employs as many as 300 people. It is expected to produce 350,000 to 380,000 ounces of gold per year over a 10-year span.
Delta Junction Visitor Info Center is at the junction of the Richardson and the Alaska Highway. (HM 1422) Stop in for comprehensive information and souvenirs from the gift shop. Open daily 8 to 8, mid-May through mid-September. Certificates for completing the Alaska Highway are available. 907-895-5068 or 877-895-5068
www.deltachamber.org/visitorcenter.html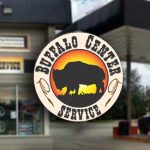 Buffalo Center Service has gas, diesel and propane. Tire sales and service. Convenience store. Clean restrooms. Free RV dump with fuel fill-up. …
Delta Junction began with a Road house that was built at the junction of the Delta and the Tanana Rivers to service gold seekers.
It expanded in 1904 with the completion of a telegraph station. The Chisana Gold Rush of 1913 and Delta's selection in 1920 as the home of the government's buffalo importation program helped to establish the town. The Bison Sanctuary is a 90,000-acre tract which contains a free-roaming herd of more than 500 Bison.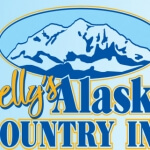 We take pride in our clean rooms, great beds and friendly service! Every room offers Wi-fi, satellite TV, refrigerators, microwaves, private baths, …
has 17 camp sites, well water, good grayling  fishing and boat launch. Mile 1415 of the Alaska Highway. Turn onto Clearwater Road …
has 25 campsites, picnic shelter, water, and toilets. It can be found at the north end of town just past the airport.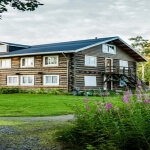 Rika's Roadhouse Café and Gifts is open at Big Delta State Historical Park. The Café serves homemade soups, sandwiches, pies and baked …
held annually at the end of July. There are horse shows, Mud Bogs, Baby Show, Pie Eating Contest. Exhibits & much more.
built in 1905, is the oldest roadhouse in Interior Alaska. John and Florence Sullivan operated the log inn from 1905-1922. Today, the …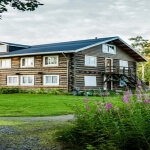 Rika's Roadhouse Café and Gifts is open at Big Delta State Historical Park. The Café serves homemade soups, sandwiches, pies and baked …
Currently we do not have any listings here.