Locations in Interior Alaska
Delta Junction

| Interior Alaska
Delta Junction marks the true end of the Alaska Highway. From here, going north or south, you will be traveling on the Richardson Highway, which starts in Valdez and ends in Fairbanks. There is a large commemorative milepost at the visitor center to mark Mile 1422 of the Alaska Highway.
This area was a traditional hunting territory of the Athabaskan Indians and features spectacular views of the Alaska Range and the Delta River. In 1903, what was to become the Richardson Highway was built from Valdez to Fairbanks because of the Fairbanks Goldrush. This trail used a portion of the Valdez Eagle trail made famous by the Klondike Gold Rush.
Pogo Mine is an underground gold mine 40 air miles from Delta Junction. The mine began production in April 2007 and employs as many as 300 people. It is expected to produce 350,000 to 380,000 ounces of gold per year over a 10-year span.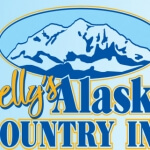 We take pride in our clean rooms, great beds and friendly service! Every room offers Wi-fi, satellite TV, refrigerators, microwaves, private baths, …