488.3
Dease Lake BC 
Junction of Cassiar Highway with Telegraph Creek Road.This road is 112.8 km/70 miles long and leads to Telegraph Creek at the head of Stikine River and is not suitable for large vehicles or vehicles towing trailers.
There are no services along the road but Telegraph Creek has a gas station, store, RCMP station, post office. Check locally for road conditions.
489.5
Hotel Creek.
501.3
Parking.
502.4
Serpentine Creek.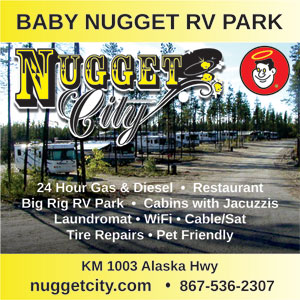 508.7
Parking.
512.3
Parking.
513.3
Halfmoon Creek.
517
Rest area with view of Dease Lake, tables, toilets and visitor map.
518.6
Parking area on the shore of Dease Lake, picnic table.
522.8
Parking.
526
Black Creek.
529
Sawmill Point Recreation Site, access road to Dease Lake. Fishing for Lake Trout. Highway paved northbound to junction with Alaska Highway. Gravel southbound to km 502.9/mile 312.5.
530.2
Dease Lake. Deserted gold rush community of Laketon can be seen across Dease Lake. Steamboats, once part of the route to the Atlin and Klondike gold fields, docked here.
531
Dorothy Creek.
536
Beady Creek.
538.4
Parking.
541.6
Parking.
544
Packer Tom Creek.
546
Elbow Lake.
554.7
Pyramid Creek.
556
Dease River, parking.
563.4
Parking.
564
Parking beside Pine Tree Lake, good grayling fishing.
572.8
Cotton Lake.
573.8
Parking with litter barrel.
581.1
Cottonwood River.
582.6
Cottonwood River rest area, reached by 1/2 km/.3 mile side road.
590
Simmons Lake. Fishing for lake trout. Limited Access.
592.8
Twin Lakes, parking.
594
Vines and Puppies Hideaway. One private cabin on Vines Lake that offers a relaxing wilderness accommodation. Dinner and breakfast included. 250-644-1061 www.vinesandpuppies.ca
595.4
Limestone Creek.
596
Lang Lake.
601
McDame Lake.
601.8
Troutline Creek.
603
Jade City (pop 30); Named for the jade deposits from the Princess Jade Mine, 132 km/82 miles east, one of the largest jade claims in the world.
Cassiar Mountain Jade Store. 
This family owned business has mined and designed unique jade pieces for over 30 years. Come in and enjoy the interactive mining museum, jade picture gallery, and free jade tours. 250-239-5233
604.7
Cassiar Junction, no services, no admittance.
605
Snow Creek, parking.
606
McDame Creek.
611.5
3rd North Fork Creek, parking.
611.9-
Parking.
613.2
Parking with litter barrel.
613.9
2nd North Fork Creek.
618
Parking with information sign on Cassiar Gold Rush.
618.1
Centerville. Once populated by 3,000 gold miners. A 72-ounce nugget was discovered here in 1877, but by 1878 much of the gold had been removed and the fortune seekers had moved on. Centerville Placer Mines Ltd., is mining this area again.
618.2
1st North Fork Creek.
625.3
Good Hope Lake.
626.1
Good Hope Lake, small Native Village. Limited services.
627.6
Parking beside Aeroplane Lake.
629
Dry Creek.
631.9
Mud Lake.
638.5
Tā Ch'ilā (Boya Lake) Provincial Park reached by 2 km/1.6 mile side road. 45 camp sites, water, toilets, and boat launch. Fishing. 1.5 km hiking trail. Fee $12.
645.6
Chief Creek.
648
Beaverdam Creek.
649.5
Rest Area, picnic tables. Good views of Horse Ranch Mountain Range. Visitor Information Map.
653
Baking Powder Creek.
667
French Creek Recreation Area. Camping.
677.3
28-Mile Creek.
681.8
Wheeler Lake.
691.3
Blue River Bridge, parking at both ends of bridge.
697
Blue Lake, parking area with picnic tables and boat launch.
700
Mud Hill Creek.
714
Cormier Creek, parking.
718.6
High Lake, parking area..
720.1
BC/Yukon Border, parking.
722.6
Albert Creek.
723.6
Alaska Highway and Junction 37 Services. Fuel and campground. The Cassiar Junction is at km 1002 on the Alaska Highway.