Alaska is a beautiful and unique state that captivates the imagination. Home to majestic mountain peaks, lush forests, and vast bodies of water, it has something for everyone seeking outdoor adventure. For those looking to explore this wild landscape in an RV or tent, Homer, Alaska provides plenty of options for camping and recreation. Here is an overview of the various RV parks and campgrounds near Homer, Alaska.
There are numerous parks where one can set up camp. From scenic Oceanview sites to secluded forested areas, each RV park we list offers an excellent opportunity to camp and discover Homer's popular activities such as kayaking, fishing, hiking, and wildlife viewing.
Homer Spit RV Parks
The Homer Spit is a natural spit of land that juts out into Cook Inlet for 5 miles. It is the second longest natural spit in the world. The Homer Spit is the center for camping, recreation, fishing, shopping and dining. No matter where you are on 'The Spit' you will have spectacular ocean views of Kachemak Bay and Cook Inlet.
This is a popular camping and RV destination with multiple campgrounds. The many nearby beaches provide plenty of opportunity for outdoor recreation such as kayaking, fishing, biking, beachcombing and even swimming (for the brave). There is a paved bike trail the entire 5-mile length of the Spit.
The Heritage RV Park offers an ideal destination for travelers looking for a full-service RV Campground. They also happen to have one of the most incredible locations in all of Alaska, right on the shore of Kachemak Bay.
These RV sites provide all the amenities necessary to make your stay as comfortable and enjoyable as possible. They have plenty of spacious sites for large rigs.
Amenities include:
20/30/50 amp electric
City water & Septic connections
Free Wi-Fi
Satellite TV
Clean Restrooms
Laundry Facility
Gift Shop
Daily rates starting at $75 per night.
Heritage RV Park provides an excellent home base while enjoying all that Homer has to offer.
The Homer Spit Campground is located on the southern tip of the Homer Spit. It offers campers an unforgettable camping experience with stunning views of Cook inlet and the surrounding mountains. Visitors can enjoy plenty of nearby recreational activities including fishing, swimming, or kayaking. It is also right next to the Homer small boat harbor, and the Boardwalk, with plenty of shops, charter companies and restaurants.
The sites have level gravel pads as well as picnic tables and fire pits. There's plenty of room for RV parking at each site, plus free Wi-Fi service throughout the park.
Fishing Hole Campground
The Fishing Hole Campground is aptly named as it is located right next to the Fishing Hole on the Homer Spit.  The campground is operated by the City of Homer and offers 80 campsites for both tent and RV camping. Each site has picnic tables and fire rings for campers to enjoy. Campground amenities include a fish cleaning station, restrooms, shower facilities and a camp store with basic supplies. One of the cities operated dump stations is nearby.
Mariner Park Campground
Mariner Park is on your right as you drive onto the Homer Spit. It has 34 campsites suitable for RV's and tents and is also one of Homer's most popular beach access points. Bikers, kite-surfers, bird watchers and sightseers all enjoy Mariners Park. Operated by the City of Homer, amenities include restrooms and a day use area with a fire ring and gazebo. There are no reservations, so it is first come, first served only. So, arrive early if you want to grab one of the coveted beachfront sites.
West Side Tent Area
The West Side Tent Area is on the opposite side of the road from the Fishing Hole Campground. This is a walk-in, tent only campground with free parking across the street at the harbor. Use the auto-pay kiosks at the Fishing Hole Campground for nightly payment.
Downtown Homer RV Parks
Downtown Homer offers several RV parks and campgrounds for visitors to enjoy. Located within walking distance of the town's shops and restaurants, these locations offer convenience as well as access to stunning vistas and outdoor activities.
Driftwood Inn RV Park
Driftwood Inn RV Park is part of the larger Driftwood Inn collection of lodges, cottages, suites, and tiny homes. The RV Park is located on the bluff, above Bishops Beach. This Central location is near the Homer Visitor Center, museums, art galleries and restaurants. Amenities include 20/30 amp electric, water/sewer, free showers, free Wi-Fi, Laundromat, fire pits & picnic tables. Driftwood Inn provides a comfortable home away from home experience for all types of campers who visit this beautiful part of Alaska.
Ocean Shores RV Parks
Ocean Shores RV Parks offer travelers large grassy sites with stunning ocean views from almost anywhere in the park. Sites offer full hookups (30 and 50 amp electric), water & septic hookups, free Wi-Fi, and Direct TV. Other RV Park amenities include restrooms and showers, Laundromat, and nearby beach access.
Campers at Ocean Shores RV Parks will love the tranquil setting, perfect for relaxation or exploration.
Other RV Parks Near Homer Alaska
There are several other RV parks located near Homer, Alaska that offer a variety of amenities for travelers including:
Homer/Baycrest KOA
Located on the Kenai Peninsula, Baycrest KOA is a great option for RVers looking to explore all that Homer has to offer. Situated right off the Sterling Highway, 3 miles before reaching downtown Homer. It is situated on a bluff, high above Homer and Kachemak Bay. RV Park amenities include up to 50 amp electric, Wi-Fi, playground, pavilion, gas station and propane, as well as a snack bar and convenience store.
Its breathtaking views combined with its excellent amenities make it popular RV Park near Homer.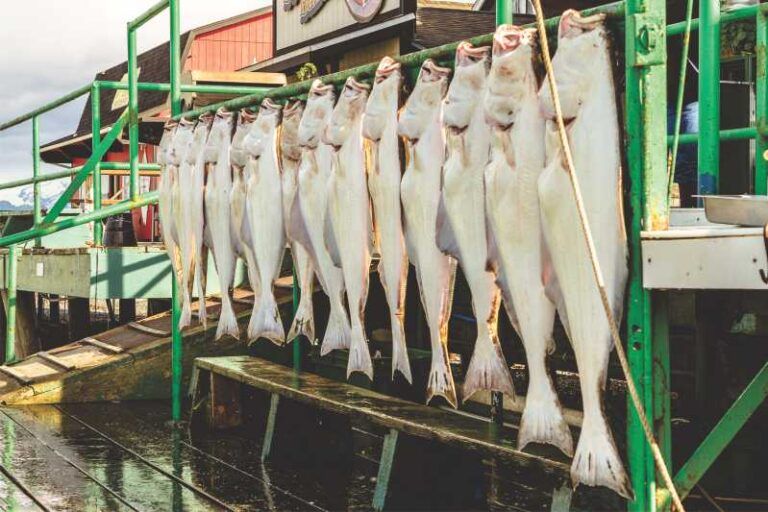 Reasons To Visit Homer, Alaska
Homer, Alaska is a great place to visit for outdoor enthusiasts and nature lovers alike. Located on the Kenai Peninsula in south-central Alaska, Homer offers year-round activities perfect for RV campers. Here are some reasons why Homer makes an ideal destination:
Halibut Fishing Capital of the World
Homer, Alaska is known as the Halibut Fishing Capital of the World for good reason. The area is home to an abundance of halibut, that can weigh up to hundreds of pounds. The nearby deep waters and easy access to some of the best halibut fishing spots in Alaska make Homer the capital for halibut fishing charters in Alaska.
There are dozens of halibut fishing charters available in Homer, with experienced and knowledgeable captains that would be happy to help you find that record setting halibut. You can book ahead or stroll the harbor in search of a willing captain.
Additionally, Homer is a great destination for anglers in search of more than just halibut. There is great fishing for Ling cod, king salmon, silver salmon and more in and around Homer. With its picturesque setting and excellent fishing opportunities, it's no wonder Homer is recognized as the Halibut Fishing Capital of the World.
Birding Capital
Homer is home to the annual Kachemak Bay Shorebird Festival. Each spring (May) Homer hosts thousands of bird watching enthusiasts to watch the annual migration of shorebirds. Kachemak Bay is an internationally significant shoreline habitat for these birds and for over 30 years the shorebird festival has brought enthusiast together to enjoy this journey.
Katmai National Park is nearby Homer and can only be reached by boat or plane. Many visitors travel to Katmai National Park each year for fishing and bear viewing. Katmai is home to the famous Brooks River and Brooks Falls, where bears are seen roaming around the falls in search of migrating salmon.
This bear viewing opportunity has become one of the main attractions to the Homer area. Katmai has also recently become world renowned for its Fat Bear Contest every October. After a summer of feasting on salmon the bears are about to begin the winter hibernation and are at their chunkiest. The National Park Service decided to run a fat bear contest to raise awareness about the conservation efforts needed to keep the Alaska Bear population in Katmai National Park healthy.
Local Attractions and Restaurants in Homer
Homer, Alaska offers a host of attractions and restaurants that are sure to please.
Art galleries like The Bunnell Street Arts Center feature works from local artists, as well as educational classes to stimulate creativity in all ages.
For food connoisseurs, Homer has unique dining experiences that can be enjoyed both indoors and outdoors. Local seafood restaurants, like Captain Pattie's on the Homer Spit offer dishes ranging from traditional Alaskan fare such as king crab legs to creative fusion entrees featuring locally sourced ingredients.
For coffee lovers, there is no shortage of espresso bars offering specialty drinks made with organic beans grown right here in Alaska! With so many options available for any palate, it's easy to find something delicious in Homer.
How To Get to Homer, Alaska
The most common way that travelers make their way to Homer is by car or RV via the Seward Highway and The Sterling Highway. Follow the Seward Highway 90 miles from Anchorage before turning off on the Sterling Highway. You'll follow the Sterling Highway 138 miles through Cooper's Landing, Soldotna, Ninilchik and Anchor Point before reaching Homer, at the end of the road. This is a spectacular drive that should be enjoyed, with plenty of scenic stops for sightseeing and photo-ops.
Homer does have a small regional airport serviced by Raven Airlines. There are direct flights between Homer and Anchorage most days.
Frequently Asked Questions
What Are the Average Rates For RV Parks In Homer, Alaska?
The costs associated with these parks vary greatly depending on location, amenities, season, length of stay and more. However, travelers should expect nightly rates to range from around $20-$50 per night for basic sites up to $150+ per night for premium ones that include extra features like full hookups, TV & free Wi-Fi. There are often discounts available including, for seniors, AAA members, military members, and local Alaskans, so it pays to ask when booking your spot for any available discounts.
Are Pets Allowed In The RV Parks And Campgrounds?
To answer this question, you will need to check with specific campgrounds, but almost all the RV parks near Homer allow pets. Many will require pets be on a leash and may designate certain areas of the park for pets. Always be aware of the preferred method of waste disposal at each RV park and remember to clean up after your pet to keep the campground tidy.
What Is the Best Time Of Year To Visit Homer, Alaska?
The best time of year to visit Homer, Alaska is a topic that attracts much debate. With its temperate climate and long summer days, the coastal town offers an array of activities for all types of travelers. From hiking in breathtaking forests to offshore fishing, there are plenty of outdoor experiences available throughout the year.
In terms of weather, the months from May through September offer mild temperatures with comfortable average highs ranging between 53°F (12°C) and 68°F (20°C). During this period, visitors can also enjoy extended daylight hours which reach up to 17 hours per day during peak season in June-July. In addition, these months afford great opportunities for photography as well due to their clear skies and vibrant colors.
Though wintertime brings shorter days, it has its own unique charms such as snowfall and auroras – both popular attractions amongst locals and tourists alike. Depending on one's travel goals and desired experience, any season could prove to be enjoyable when visiting Homer, Alaska.