Locations in Kenai Peninsula
Cooper Landing

| Kenai Peninsula
Cooper Landing is nestled in the majestic Kenai Mountains beside the beautiful turquoise waters of Kenai Lake, the Upper Kenai and Russian Rivers.  Cooper Landing is surrounded by the Chugach National Forest and the Kenai National Wildlife Refuge. The area's convergence of scenic mountains, rivers, well-maintained hiking trails, spectacular sport fishing and plentiful wildlife make it a favorite outdoor recreation destination for Alaskans and anyone looking for an adventure. The town, originally called Coopers Landing, is named after Joseph Cooper who arrived in 1884 to search for gold on the Russian River and Cooper Creek.
The Kenai River itself served as the principal means of transportation until a road from Seward was built in 1938. Until then only the railroad connected Seward to Anchorage. It was not until 1950, that the Sterling and Seward Highways connected the rest of the Kenai Peninsula to Anchorage.
Cooper Landing is home to some of the best sport fishing in the world with readily accessible road access to the Upper Kenai and Russian Rivers. These rivers provide anglers with some of Alaska's finest yet affordable sport fishing opportunities.
The U.S. Fish & Wildlife's "Russian River Ferry" at mile 55, crosses the Kenai River to allow bank-fishing anglers to access the Kenai & Russian Rivers Confluence, which is the most productive Sockeye (Red) Salmon sport fishery on earth.
Cooper Landing Visitor Info Cabin at mile 48.6
The Kenai – Alaska's Playground: No other destination offers such an up close and personal Alaskan experience. With over 15,000 square miles of extraordinary adventure and excitement to choose from, even the rest of the state comes here when they need a reminder of why they moved to Alaska in the first place. That's why it's known as Alaska's Playground.
Check out Online Specials, a Free Kenai Peninsula Travel Planner and a Free Passport to Adventure on the Kenai. Full of discount coupons for your visit to the Kenai Peninsula. 35571 Kenai Spur Hwy, Soldotna. 800-535-3624
www.kenaipeninsula.org
The area has seen human habitation as far back as 2000 BC when The Kachemak Riverine tribe established fish camps along the Rivers. The Dena'ina Athabaskan Indians arrived in the area about 1000 AD and dominated until just over a century ago.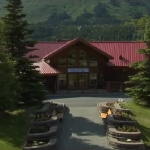 Kenai Princess Wilderness Lodge. This true Alaska lodge overlooking the Kenai River is just two hours from Anchorage. Private hillside bungalow-style rooms …
29 sites with water, power and septic. General store, 24-hour, coin-operated shower and laundry facilities. Guests enjoy full privileges at the adjacent …
mile 50.5 USFS campground. Water, tables, fire pits and toilets.
Currently we do not have any listings here.
Currently we do not have any listings here.