Locations in Kenai Peninsula
Kenai

| Kenai Peninsula
The city of Kenai Alaska is centrally located on the Kenai Peninsula, overlooking the mouth of the Kenai River. Originally settled as early as 1000 A.D. by Dena'ina Athabascans, Kenai expanded with the influx of Russian fur traders in 1791. Stroll sandy beaches that command a spectacular view of Cook Inlet, experience the history and culture by taking a walking tour through Old Town, or enjoy some of the best fishing around on the world famous Kenai River.
Kenai is on the Cook Inlet, 156 miles south of Anchorage and 90 miles north of Homer. Considered the transportation hub of the Kenai Peninsula, it is home to the peninsula's biggest and busiest airport. Dubbed the "oil capital of Alaska", Kenai's modern economy is based on the oil and gas industry and commercial fishing, but tourism is now playing a more important role.
Kenai has a population of 7,464 and boasts magnificent views of Cook Inlet and Mt. Redoubt volcano. At the 'end of the road' is Captain Cook State Park, the western end of the Swanson River canoe system and the city is surrounded by the Kenai National Wildlife Refuge.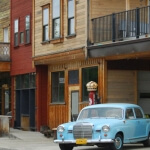 Diamond M Ranch Resort offers a variety of cabins and historical suites. Located between Kenai & Soldotna, close to the famous Kenai …