Locations in British Columbia
Chetwynd

| British Columbia
Chetwynd, formerly known as "Little Prairie" was renamed to honor the late Ralph Chetwynd, a British Columbia Minister of Railways. It has a population of about 3,100 with a trading area of 7,000. Chetwynd's main industries are forestry, mining, natural gas processing and ranching. It is in the foothills of the eastern slope of the Rocky Mountains at the junction of Highways 97 and 29 and the BC Rail Mainline. Four distinct seasons combined with rolling hills, snow-capped mountains, and crystal clear lakes and rivers make Chetwynd a playground for the outdoor enthusiast.
There is plenty of sport fishing in the region. Hiking and biking is popular. During the winter months there is speed skating at the Rotary Park, snowmobiling in the eastern foothills of the Rocky Mountains plus ice fishing and hunting. Cross country skiing or down hill skiing is available at Powder King.
The Chetwynd Visitor Centre is at 5400 North Access Road. It's on your left as you enter Chetwynd heading North. Open daily from 9am-7pm during the summer and 8am-4:30pm October through April. The four seasons combined with forests, hills, mountains and beautiful lakes make Chetwynd a playground for any outdoor enthusiast. 250-788-1943
www.gochetwynd.com
When the first settlers arrived in the early 1900s the area was known as Little Prairie by Indians who travelled from Moberly Lake to hunt in the Sukunka Valley. The first Highway was built between Prince George and Dawson Creek in 1952. Chetwynd was incorporated as a Village in 1962 and in 1983 the municipality was reincorporated as a District Municipality.
Rooms & Suites; Jacuzzis or fireplaces in some rooms. Room rates includes continental breakfast and free movies; high speed internet available in …
Open year round, 16 km West of Chetwynd. Large pull thru site with hookups.  Discount for Seniors 65 years of age and older …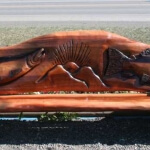 Join the counselors at the Visitor Centre for a walking tour of the chainsaw carvings and the town!  Learn about the history …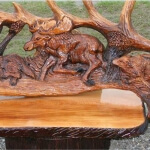 Come watch carvers from all over the world compete on June 9-12, 2016. For up to date information visit their Facebook Page: www.facebook.com/Chetwynd-International-Chainsaw-Carving-Championship
Little Prairie Heritage Museum was originally a general store and post office in the downtown area. It is been refurbished and renovated …
Currently we do not have any listings here.
Currently we do not have any listings here.