Locations in British Columbia
Taylor

| British Columbia
Taylor overlooks the Peace River and surrounding valley. In 1896, Donald Herbert Taylor homesteaded at Peace River Crossing where he met and married Charlotte. In 1905 they moved to Hudson's Hope where Herbie became the Factor for the Hudson's Bay Co. They stayed there until 1912 when they moved back down the river and were the first family to settle on the Flats. Herbie maintained a Peace River ferry crossing for fur traders, prospectors and homesteaders.
When the Peace River Suspension Bridge opened in 1943 it was the longest bridge on the Alaska Highway at 2130 feet. It collapsed in 1957 and was rebuilt in 1959.
In 1957, Canada's first natural gas pipeline was constructed from Taylor to the United States border.
Peace Island Park has full service sites, walking trails, horseshoe pits and playgrounds. 250-789-9295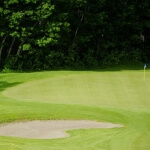 an 18-hole championship course and a driving range in Taylor, about 15 minutes south of the city. A recently renovated restaurant is …
Taylor Info Centre is on the left if you are headed towards Alaska. 250-789-9015