Top of the World Highway
PDF Map
PDF Road Log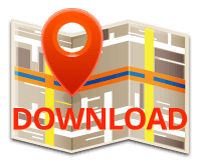 Dawson City to Alaska Border
Dawson City Chicken Tok Whitehorse Fairbanks
0
Dawson City. Ferry crossing of Yukon River on the George Black(free). Ferry runs continuously 24 hours a day May to October (brief maintenance shutdowns are scheduled between 5-7 am on Wednesdays). Crossing takes about 10 minutes. There are long ferry lines in the morning so better to wait and enjoy extra time in Dawson rather than waiting in line.
0.3
Yukon River Campground, 94 camp sites, water (boil), pit toilets, firewood, shelters. Fee area.
4
Top of the World Golf Course. 9 holes, rentals, pro shop. 867-993-5888
5
Great views of Dawson City, Klondike and Yukon Rivers. No parking available.
14
Rest area, tables and toilets. Information sign on Top of the World Highway.
29.2
Parking.
32
Parking.
40
Parking.
46
Parking.
56
Castle Rock, erosion created rock outcropping.
59
Side road to abandoned Clinton Creek mine (no services).
61.5
Scenic viewpoint.
64.5
Parking.
81
Parking.
86
Rest area,  road is very rough and dead ends.
86.8
Side road to Sixtymile mining area, parking.
92
Parking.
97.9
 Scenic viewpoint.
100.8
Rest area with view, Info sign on Top of the World Highway. Toilets and litter barrel.
104.4
Parking.
 106.2
(mile 65.8) Canadian and U.S. Customs offices. Open 9am to 9pm (Pacific Time) when Dawson City Ferry is in operation. Road is closed in winter.
If you are traveling to Alaska, mileage markers along the road indicate distance to Eagle Junction in miles. If you are traveling into Canada markers indicate distance to Dawson City in kilometres. Time zone change. It is one hour earlier Alaska time.