Locations in Southeast (Inside Passge)
Wrangell

| Southeast (Inside Passge)
Nestled on an island at the mouth of the mighty Stikine River, Wrangell offers visitors a friendly taste of a frontier community in the midst of some of the most unique and pristine wilderness in Alaska. Known as the "Gateway to  the Stikine", Wrangell offers a step back into time. There is much to immerse yourself in. Walk among petroglyphs and imagine the people who carved them thousands of years ago. Visit chief Shakes Tribal House, Totem Park and the Wrangell Museum  for a glimpse in to the tlingit Native' way of life. Hike up to Rainbow Fall or stop and pick the abundant wild berries. Traverse the Stikine River Delta by jet boat, fly over majestic snowcapped mountains, rest in natural hot springs, or explore the Tongass National Forest.
The Stikine River, a designated wilderness area is abundant with the wildlife that lured the Hudson Bay Company to establish a settlement here. During July and August The Anan Bear and Wildlife Observatory is a favorite spot to view brown and black bears feasting on salmon.
Nestled on the northern tip of the island at the mouth of the mighty Stikine River, Wrangell offers a friendly welcome.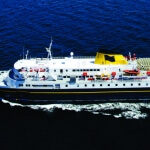 The Alaska Marine Highway is a state operated ferry system that provides the area with convenient intercity transportation. The ferries of the …
Wrangell Convention & Visitors Bureau is in the James and Elsie Nolan Center. The Nolan Center is also home to the Wrangell museum, which houses a collection of Tlingit and Russian artifacts. 296 Campbell Drive. 907-874-9282 or 800-367-9745
In 1834 the Russians erected Fort Dionysius to prevent the Hudson's Bay Company from fur trading up the Stikine River. When the Russians finally agreed to lease Southeast Alaska to the Hudson's Bay Company in 1840, Fort Dionysius was renamed Fort Stikine. The name of the settlement was changed to Fort Wrangell when Alaska became a United States territory in 1867. Prospectors of two gold rushes surged through Wrangell en route to the gold fields via the Stikine River, first in 1874 with the Cassiar discovery, and again in 1897 with the Klondike discovery.
Some very notable people passed through Wrangell including the naturalist John Muir and Wyatt Earp who stopped on his way to Nome. He even served as Marshall for 10 days.
Alaska's first Presbyterian Church and school were established here in 1877. A weekly newspaper, The Wrangell Sentinel, printed its first issue November 2, 1902, and still continues to print today, which makes it the oldest continuous publication in Alaska.