Top of the World Highway
PDF Map
PDF Road Log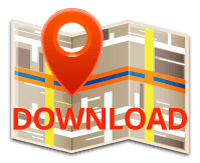 Top of the World Highway
The Top of the World Highway is really two highways. In the Yukon the Top of the World Highway is Yukon Highway #9. The Top of the World Highway in Alaska is the Taylor Highway. The Taylor Highway runs from the Alaska Highway all the way to Eagle, Alaska.
The length of the Top of the World Highway is 175 miles/281 km and connects Dawson City in the Yukon to the Alaska Highway at the Tetlin Junction. The Highway is only open from mid-May to mid-October, however, it has been known to close earlier due to snow. Many travelers use the Top of the World Highway when driving between Fairbanks, Alaska and Dawson City, Yukon, which is 398 miles/640 km. The distance from Tok Alaska to Dawson City is 187 miles and the distance from Dawson City to Chicken, Alaska is 106 miles/171 km.
Click here to view our Top of the World Highway Map.
When entering or leaving Dawson City on the Top of the World Highway, you will need to take the George Black Ferry. It crosses the Yukon River, for free, 24 hours a day in the summer. The first 106 km to the border is mostly on a chip-sealed surface with gravel sections. There are a number of scenic overlooks on this part of the highway. For a complete list of Things to do in the Yukon and Alaska on your trip north, visit our Things To Do section.
The Canada/U.S. border is open from May to Sept. from 8am to 8pm Alaska time and 9am to 9pm Yukon time. Everyone crossing the border will need proper ID, such as a passport. The Poker Creek Border Crossing is North America's most northern international border crossing. The border does not always have the same opening and closing dates as the Highway, so check ahead if you are traveling early or late in the season.
Boundary Spur Road from the U.S./Canada Border to Jack Wade Jct. is newly paved. At the junction you join the Taylor Highway, which travels west to Chicken, Alaska or north to Eagle, Alaska. The 30 miles from Jack Wade Junction to Chicken is gravel and can be challenging. Give yourself plenty of time to reach your destination. At mile 66 of the Taylor Highway you will find the community of Chicken, home of the Pedro Gold Dredge and Tisha's Schoolhouse. Chicken is a good place to stay over as there is lots to see and do in this historic community. The road between Chicken and Tetlin Junction has been reconstructed and is usually in good condition.
The Top of the World Highway is a scenic route with breathtaking views that should be enjoyed with plenty of stops along the way.