One of Mother Nature's most stunning works of art has to be glacier Ice caves. A visit to one of these enormous and awe-inspiring ice caves is something many people are looking to check off their bucket list. And there's nowhere better to do it than in the country's last frontier, Alaska!
However, before you start planning your visit to any Alaska ice caves, you should be aware that these natural wonders can be extremely dangerous, and you enter at your own risk. Ice caves in a glacier are constantly shifting and changing and it's not uncommon for debris to fall from the ceiling or completely collapse.
Many of these ice caves are best visited during the winter when they are more frozen and more stable. Warm summer temperatures cause glacial ice to melt and shift.
So, if you plan to visit ice caves near Anchorage or anywhere in Alaska it is recommended that you hire an experienced guide that know the terrain well and provide experience, guidance and safety equipment.
The Best Ice Caves near Anchorage, Alaska
First, what is an ice cave? It can mean both:
A bedrock cave that features ice due to water vapor freezing over its surfaces, or
A cave formed by water melting out tunnels inside glaciers.

Alaska's ice caves typically belong to the latter category.
With that out of the way, now it's time to be honest. Most of the ice caves near Anchorage, aren't that close. Some will require a long drive, a flight or possibly even a ferry to reach them. But there are a couple of glaciers with ice caves that are relatively near Anchorage, including Byron Glacier, Spencer Glacier and Matanuska Glacier.
Here are seven of the best ice caves to visit in Alaska
Byron Glacier is one of the most easily accessible glaciers in Alaska and is one of the few ice caves near Anchorage. It is located in Portage, only 50 miles from Anchorage. The trail to Byron Glacier can be reached by taking the Seward Highway, where you will parallel the beautiful Turnagain Arm, to mile 78. Here, you turn left onto the Portage Highway for five miles to the Begich Boggs Visitor Center. The trail to Byron Glacier trailhead is nearby on Byron Glacier Road.
Located in the Chugach Mountains of Alaska, Byron Glacier starts high in the mountains before terminating near Portage Lake. It is part of the same ice field that the much larger Portage Glacier originates from. The glacier is a popular destination for hikers, mountaineers, and sightseers.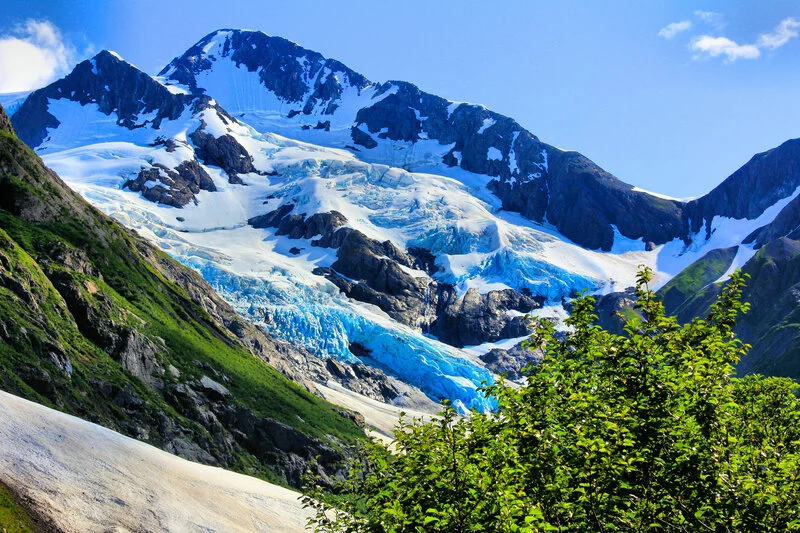 The ice caves on Byron Glacier shift and change every year and are known to be quite unstable. These caves are usually found near the terminus of the glacier and are often quite deep, sometimes reaching depths of over 200 feet. The caves stunning blue ice is sculpted by nature and often feature a variety of formations including arches, columns, and stalactites.
If you want to get up close to a glacier without the hike, head out on the mv Ptarmagin which takes guests up close to the beautiful Portage Glacier. A perfect addition to a cruise starting or ending in Whittier (only 5 miles away).
The Spencer glacier is a stunning glacier and offers some of the nearest ice caves to Anchorage. The glacier is located about 60 miles from Anchorage via the Seward Highway and Portage Highway. This glacier rises 3,500 feet from Spencer Lake, high into the mountains.
The Spencer Glacier is in the Chugach National Forest, home to pristine waterfalls, breathtaking vistas, and incredible wilderness. Spencer Glacier can only be accessed by train, making it a terrific adventure.
You can either drive the 45 miles from Anchorage to Portage to catch the Alaska Railroad. Or you can take the Alaska Railroad all the way from Anchorage.
At Portage you will need to make sure you are on the Alaska Railroad Glacier Discovery Train to reach the Spencer Glacier Whistle Stop. If you are on the Coastal Classic train you will end up in Seward (Which is great, if that's where you were heading!)
Spencer Glacier ice caves are known to be on the face of the Glacier, so they are really only accessible during the winter months, when Spencer Lake is frozen. However, unless you are with a professional guide, it is not recommended to try and access these ice caves any time of year.
The good news is that just reaching Spencer Glacier is a wonderful journey into Alaska's backcountry, and you won't be disappointed. Even if you don't get to check ice caves off your bucket list.
Unless you are planning to camp at one of the public use cabins or campgrounds at Spencer Glacier, be aware of the time to catch the last train back to Portage or Anchorage, which is typically around 4:30pm.
https://www.alaskarailroad.com/ride-a-train/schedules
The Spencer Glacier side trip can easily be included in any itinerary that travels between Anchorage and Seward/Whittier. Perfect for a post cruise tour of Alaska.
100 miles from Anchorage, via the Glenn Highway, is the 27-mile-long Matanuska Glacier. The glacier sits within the 229-acre Matanuska Glacier State Recreation Site and is the country's largest car-accessible glacier.
The Matanuska glacier moves about a foot a day as it's an active glacier, which means that every visit here is going to hold something new and different! Guided tours are available and recommended to explore the many ice caves; these tours are available year-round, and the necessary equipment is also provided to you.
The Matanuska Glacier State Recreation Site also has a modest campground and several trails to explore, so you can really make a day of it.  If you'd rather admire the beauty of Matanuska Glacier and the surrounding mountain vista from afar, there's an excellent viewpoint on Glen Highway at mile 101.
Seven hours by road (310 miles) from Anchorage is the stunning Root Glacier, nestled into the 13.2-million-acre terrain of the country's largest national park—the Wrangell-St. Elias National Park.
In addition to its beautiful ice caves, the national park also offers jaw-dropping views of Donoho Peak. You can also check out the many ravines and glacier tide pools in the park. The main attraction for ice cave hunters is the Jumbo Creek ice cave, where you will be surrounded by stunning blue ice once you enter.
The easiest way to reach the Glacier is to take the short day hike 1.5-mile to Root glacier from the historic town of Kennecott. The trail will lead you right to the toe of the glacier.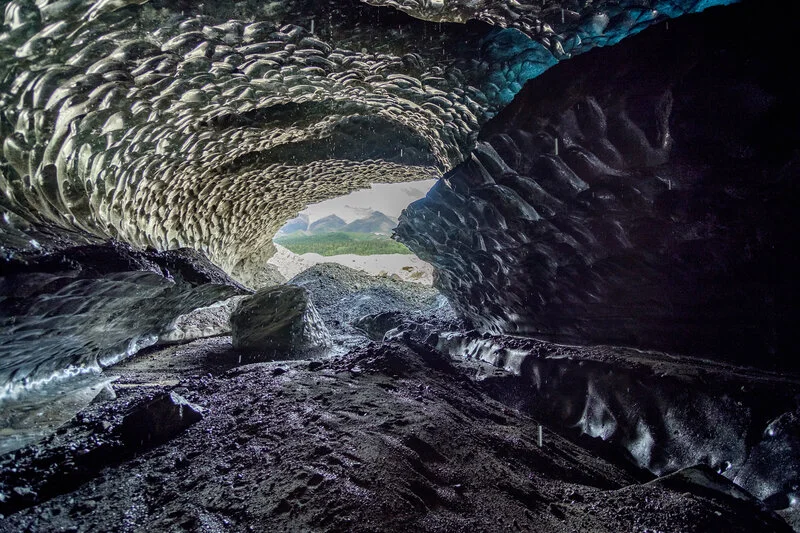 Several tour guides offer tours to the Root Glacier caves; providing you with the gear needed for the trek, to ensure a safe journey.
For those looking to explore the Wrangell-St. Elias National Park, we recommend flying in with Wrangell Mountain Air from Chitna and staying in Kennicott Glacier Lodge.
Also located within the Wrangell-St. Elias National Park, Kennicott Glacier is typically rich with ice caves. The Kennicott Glacier spans the area from Kennicott River to Mount Blackburn, the highest peak in the park and 5th highest in North America.
Finding the glacial ice here requires a little bit of looking—you'll need to look beneath the rocks and dirt to discover the blue ice. But with the right guide you will discover stunning glacial formations at Kennicott Glacier.
Both Root and Kennicott glaciers keep changing and moving, which can make the caves unstable. Always check which caves are safe to enter.
Castner Glacier Ice Cave is a unique and secluded spot located in the Alaska Range. It is also one of the most accessible glaciers in Alaska, because it is only a short hike from the Richardson Highway. Keep in mind that this ice cave is not very near to Anchorage. It is actually much closer to Fairbanks.
The Castner Glacier is one of the few in Alaska that has not been in full retreat, as it receives plenty of snow each year and the lower section is covered by a heavy debris load, which helps insulate the ice from summer thaw.
Visitors to the Castner Glacier Ice Cave will be able to experience a stunning view of a typical Alaska Range glacier complete with jagged peaks and a long, narrow ice path.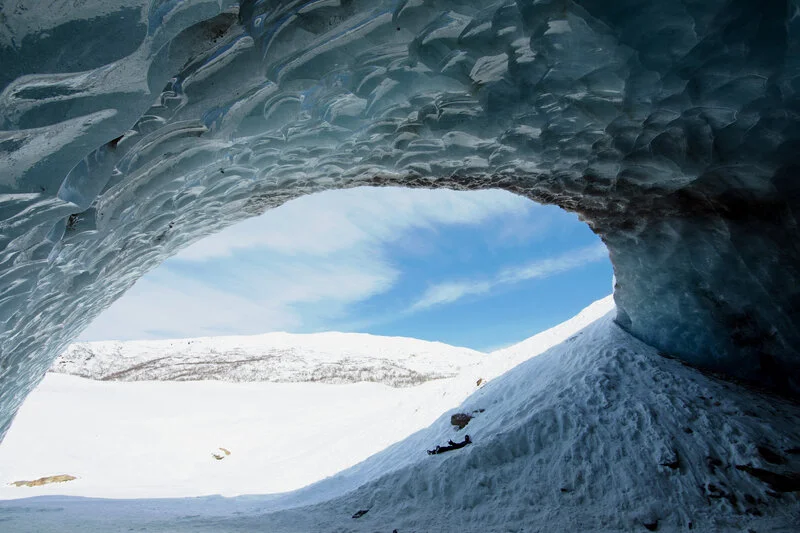 To reach Castner Glacier from Anchorage drive 189 miles to Glennallen. The highway ends at the Richardson Highway, where you will turn left (north) and drive approximately 100 miles to mile 217.3 of the Richardson Highway. From Fairbanks, it is a 140 miles drive south on the Richardson Highway and 58 miles south of Delta Junction.
The walk to the toe of the glacier, where you will find the famous Castner Ice Cave, is approximately 1 mile from the Richardson Highway. You will be walking along or beside Castner Creek. In winter, it's best to have skis or snowshoes to make the trek.
Mendenhall Glacier Ice Caves
Maybe the most famous and easily accessible ice caves in Alaska are in Juneau, Alaska's Capital. Juneau is only reachable by air or water, there are no roads that connect it to the mainland. However, Juneau is only a quick 1:35 minute flight from Anchorage.
Juneau is one of Alaska's most visited cities because of the large number of cruise passengers that visit each year. This makes Mendenhall Glacier, 12 miles from downtown Juneau in the Mendenhall Valley, one of the most visited attractions in all of Alaska. At the foot of the glacier is the stunning blue waters of Mendenhall Lake.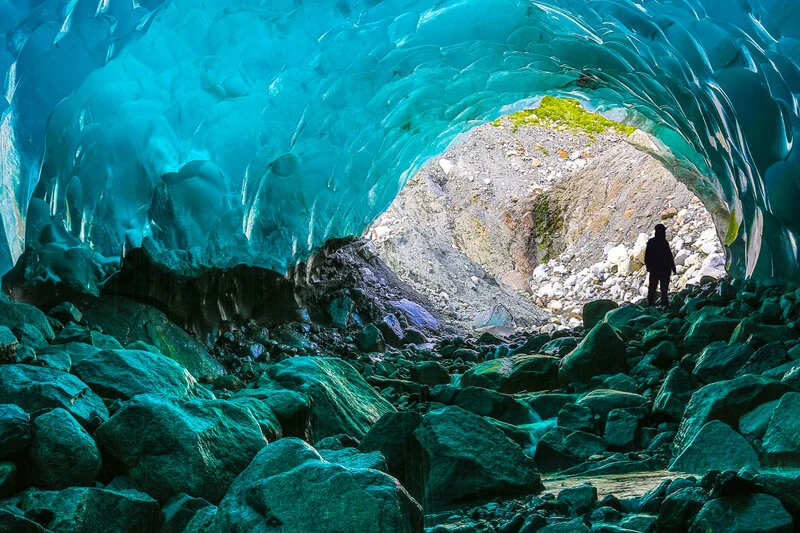 However, most visitors do not take the opportunity to explore the natural wonder that are Mendenhall Glacier's stunning ice caves. Equal parts spectacular and spooky, getting to some of the caves is not recommended without a guide.
There are plenty of hiking tours offered, with operators also giving hikers the necessary equipment, including crampons and walking poles. Some of the treks to the Mendenhall ice caves can last well over six hours and take you over some very tricky paths. The Mendenhall Glacier Recreation Area is located within the Tongass National Forest.
Ice caves may be beautiful to explore, but they can also be quite dangerous and unstable. Regardless of how experienced you are, exploring these natural wonders with a guide is always recommended. These professionals know which caves are safe to enter and can easily and safely navigate them, providing you with a safe and memorable experience.
Many of these glaciers are receding quickly, so don't miss out on the opportunity to see these gorgeous spectacles while they're still around. If you're looking for more spectacular Alaska travel ideas, check out our Alaska Luxury Vacations info.