Parks Highway
PDF Map
PDF Road Log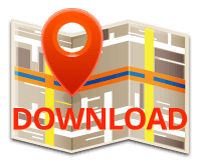 Denali National Park to Fairbanks
Anchorage Wasilla Talkeetna Denali Park Fairbanks
237.3
Denali National Park and Preserve Entrance.
237.9
Nenana River Bridge
238
Parking Access to walking bridge that crosses the Nenana River
238
Nenana Rafting and Cabins.

238.2
Kingfisher Creek.
238.5
Denali Townsite.
238.6
Denali Rainbow Village

Denali Park Adventures

Denali Park Zipline Tours is new in 2016. The Zip Tour is designed and built for maximum enjoyment for every level. No need to hand brake or worry about getting stuck, just enjoy the views during your thrill ride. Certified guides lead you along six suspension bridges and eight ziplines. 907-683-2947
240.2
Hornet Creek.
240.4
Parking.
241
Parking.
241.2
Fox Creek, parking.
242.2
Dragonfly Creek.
243
Moody Bridge spans Windy Canyon on the Nenana River. Winds have been clocked as high as 120 mph. It is 174 feet to the canyon floor, parking at south end of bridge.
243.8
Bridge over Bison Gulch, small parking area at north end of bridge.
244
Parking
244.6
Antler Creek.
245.1
Denali RV Park & Motel

247
Parking.
248.6
Parking.
248.8
Healy. Healy is at Mile 248 Parks Highway. It is home to the state's only commercial coal mine. Founded in 1943, Usibelli Coal Mine has a work force of about 95 employees and operates year-round. Usibelli coal is among the lowest sulfur coal produced in the world. Other environmental benefits include low nitrogen content, high calcium content and excellent performance characteristics in equipment designed to clean flue-gas emission.
For over 60 years UCM's success in a harsh climate and remote location can be attributed to innovation in its operations. State-of-the-art equipment and modern methods have maximized efficiency. Currently, an average of 1.3 million tons of coal is produced annually, supplying six Interior Alaska's power plants and also shipping coal to South Korea and Chile through the Port of Seward.
248.7
Totem Inn

249.8
Dry Creek.
251.3
Small parking area.
252.5
Panguingue Creek.
259.4
Parking; Rex Dome is to the northeast, Walker and Jumbo domes to the east. Liberty Bell mining area lies between the peaks and highway.
261
Parks 261 Pond. Public  fishing.
262.9
Parking.
269
Rest Area. Sheltered picnic table, firepits, toilets. Steep road leads to June Creek and lower parking area. There is limited turnaround space for large RV's.
269.3
Bear Creek, parking.
271.3
Parking.
275.8
Jack Coghill Bridge to the Interior /Nenana River Bridge.
276
Tatlanika Trading Co.
280
Clear Sky Lodge.
283.5
Junction to Clear Air Force Station and Anderson.
285.7
Julius Creek.
286.8
Large parking area.
296.7
Fish Creek.
304.5
A Frame Services

304.6
Nenana Alaska Pop. 383
305
Alaska Native Veterans' Honor Bridge over the Tanana River, large paved parking at the north end of bridge.
305.5
Parking.
309
Parking
314.6
Parking.
314.7
Little Goldstream Creek.
318.8
Parking with view of Denali (Mt. McKinley) on a clear day.
324.4
Short loop road on right northbound with scenic view to south.
325
Parking
331.7
Short loop road on right northbound.
335.6
Short loop road on left northbound.
339
From here to mile 345, Murphy Dome, elevation 2,930 feet, is visible. On the summit are white communications installations.
339.7
Loop Road to parking with scenic viewpoint on left northbound.
341
Loop Road to parking with scenic viewpoint on left northbound.
344.2
Large paved parking area. Monument in honor of George Alexander Parks, former governor of Alaska. Also here is a Blue Star Memorial plaque honoring the armed forces. The Tanana River can be seen below in the valley.
349.9
Alder Creek
351.2
Turn-off for Ester, a former gold mining camp. Drive .4 miles, turn right on road marked Ester, and drive .2 miles to an intersection.
355.8
Sheep Creek Road. Road to Murphy Dome (this is a restricted military site).
356.8
Turn-off to the University of Alaska, Geist Road where there is a post office, Chena Ridge Loop and Chena Pump Road, where the old Chena Pump House National Historical Site is located. The Chena Pumphouse is one of Fairbanks' finest restaurants.
357.7
Bridge over Chena River.
358
Exit to Fairbanks International Airport via Airport Way.
Parks Highway crosses Airport Way and becomes Mitchell Expressway. Follow Airport Way for downtown Fairbanks and visitor facilities or continue straight ahead for the Richardson Highway with access to the Alaska Highway.
362.3
The Parks Highway (Mitchell Expressway) merges with the Steese Expressway / Richardson Highway (Alaska Route 2) heading southeast towards North Pole and Delta Junction.